News
Why Provide CPR and First Aid Training in Schools?
Posted September 29, 2021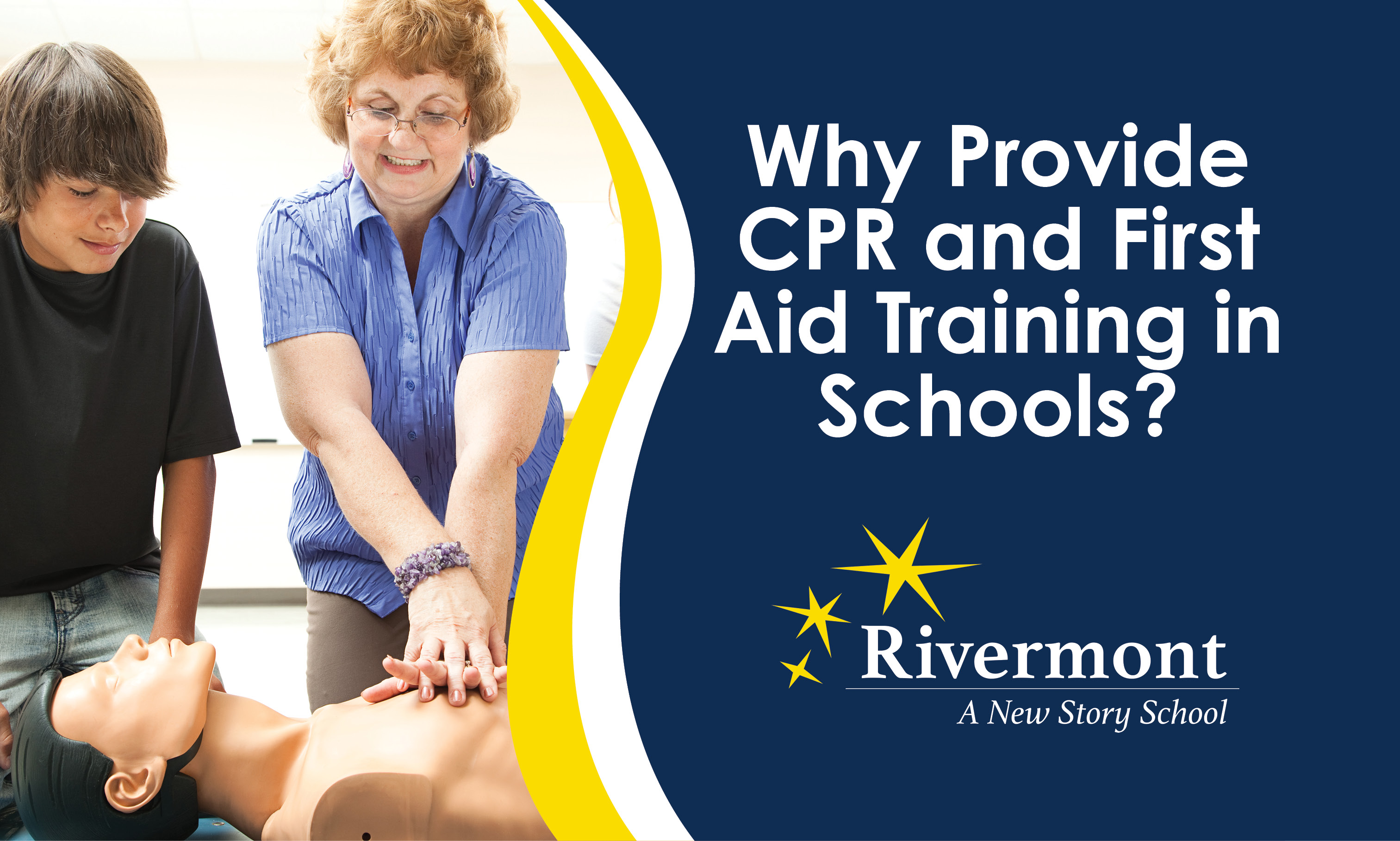 By Terry Templeton, Special Education & Transition Supervisor
Rivermont Schools
Did you know that the Virginia Department of Education requires all teachers, administrators, and students pursuing a standard diploma to be certified in emergency first aid, CPR, and AED? In the past few years, Rivermont has developed a program to make sure our 13 sites and hundreds of staff and students have access to this life-saving training.
As we kicked off our program, two of our senior instructors stepped up to become instructor trainers and created a partnership with the local chapter of the American Heart Association. Staff members in each school agreed to become instructors. What started as a task to meet regulations grew into so much more.
With intentions of certifying all staff and capable high school students, our instructor candidates began their journey with marked enthusiasm and we quickly saw results. As never before, trained instructors and equipment in each school made CPR and first aid training accessible for students and staff whenever needed.
As instructors prepared to provide the training for students, we had questions. How will students sit still that long? How will they react to mannequins and bandages? Will they take this training seriously? So we started every class with a simple question, "What is your 'why' for taking this course?... and the hands went up! Students shared stories of personal trauma, scenarios of how this course could help them save a life, gain graduation credentials, and provide necessary skills for a future career. To our delight, the students negated every doubt, displayed model behaviors, and provided authentic feedback throughout the course. The trainees were able to tie their learning to real-life experiences. The sheer sense of accomplishment in learning and demonstrating these important skills gave the participants a great deal of satisfaction and self-confidence. The crowning achievement was the certificate of completion that was displayed in the students' career portfolios.
The expected benefits from providing ongoing training in first aid, CPR, and AED in Rivermont Schools were to meet state requirements for staff and students while providing safety measures in responding to daily large or small injury occurrences. The unexpected benefits that followed in the months and years to come were perhaps the greatest reward.
Here are a few of the reported outcomes from students and staff:
A student came to school and said she had watched her foster mom collapse. She called 911 and started CPR before the rescue squad arrived.
An instructor went home one evening and noticed that her husband was staggering and slurring his speech. She immediately recognized he was having a stroke and called 911. Her quick response allowed him to make a full recovery. (Both were school employees and CPR Instructors).
A student made a first aid kit and took it with him on a hike. He fell and cut his leg badly and was able to bandage himself and stop the bleeding. He sought medical attention from an EMT and was invited to volunteer at his local rescue squad.
A staff member admitted that he wasn't excited about "another required training" however when his stepfather became unconscious from a suspected heart attack, he started CPR and his stepfather regained consciousness. When medics arrived and said he had saved his loved one's life, he was grateful.
A group of staff and students were on their way back to school from a field trip and were nearly run off the road by a motorcycle going in the wrong direction. The cyclist ran off the road into a ditch. No-one stopped to help so the school van pulled over. The staff quickly assessed the scene and sprang into action. They worked as a team to calm the children, call 911, and provide first aid to the cyclist who was bleeding profusely. They were able to stop the bleeding, provide bandaging and stabilize the victim until help arrived. They likely saved his life.
Two staff members were on their way home from work when the vehicle in front of them was involved in a fatal car accident. They were the first responders on the scene to call 911 and assisted and calmed injured victims. One of the victims was a former staff member's mother. The former employee was eternally grateful that his colleagues were there for his mother.
No one ever would expect so much good to come from adding a required practice to a training regimen. Perhaps the training could have been outsourced or delivered through a different method. However, looking back, there were so many hidden benefits and a greater purpose to "the why." Not only has this training created a sense of accomplishment, self-confidence, and career development for students and staff, it has also made our schools, families, and communities safer and even saved lives.