What is a Transition Program?
New Story Schools strives to help our students excel within our walls, and beyond. Our transition program reflects our commitment to this goal. Transition assessment and programming promotes a successful transition out of educational placement into adulthood. This process begins when students reach the age of 14 and continues until they graduate or exit the school system. Our transition program caters to the abilities, interests, and individual goals of our students as they transition into adulthood. Many of our students face challenges in their academic progress and interpersonal skills while facing a lack of opportunity to explore their future options. We offer career preparation, community-based vocational training, social and daily living skills development to help address these challenges and will:
Provide accurate and realistic assessment of student's abilities and interests.
Set realistic and measurable goals related to the student's post-graduate goals.
Provide support and services to help the student achieve their goals.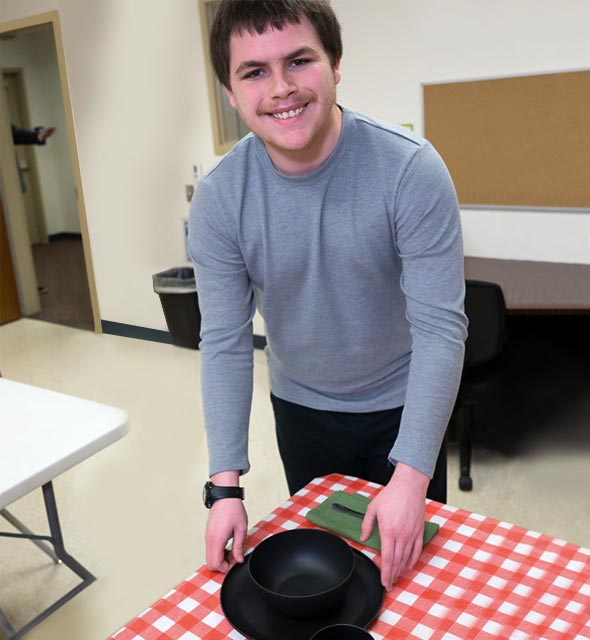 Our Approach
We use the Life Centered Education (LCE) Transition Curriculum. LCE is a research-based curriculum designed for students who have learning disabilities, mild intellectual disabilities, autism spectrum disorders, or are otherwise at risk. LCE identifies three critical domains for adult living in the 21st Century:
Daily Living Skills – New Story Schools teach students skills to handle personal finances, manage a household, address personal needs, cope with family responsibilities, and prepare food.
Self Determination and Interpersonal Skills – New Story Schools' academic and therapeutic programs help students develop self-awareness, self-confidence, socially responsible behavior, good interpersonal skills, independence, decision making, and communication skills.
Employment Skills – New Story Schools teach students functional work habits, how to seek and maintain employment, physical/manual skills, and job competencies.
Our students receive assessments in all three domains and the results of the assessment determine the transition-related goals for the IEP.
Real-World Application
Community Based Instruction (CBI) is a vital piece to transition programming. CBI expands vocational learning experiences beyond traditional school settings to community-based businesses. Through many business partnerships, our transition program provides students with opportunities for skill development in real settings. Our staff supervises and transports students to business sites during school hours.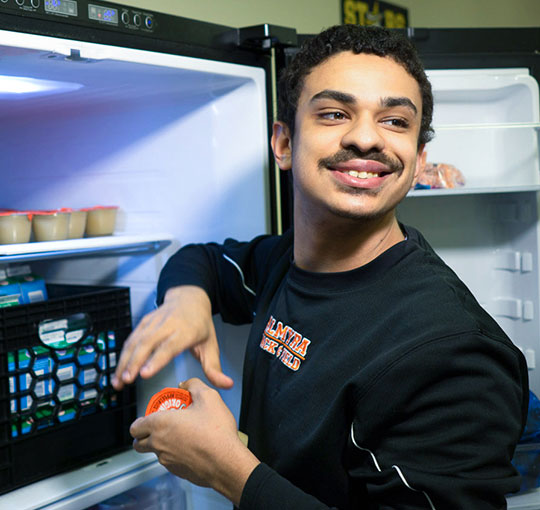 Terms You Will Hear
Life Skills Instruction

Life skills instruction equips students with the skills to thrive in the world beyond the classroom. Teaching practical activities of daily living and independence skills enables students to leave school and contribute to their communities and society.

Vocational Instruction

This instructional process takes larger vocational tasks and teaches them in smaller steps using recognizable materials to help students learn faster and with greater accuracy.

Natural Environment Teaching (NET)

NET is a group of practices used to encourage the development of communication in social settings based on the student's interests. Teaching in the natural environment through daily routines promotes skill development in communication and socialization.

Community Based Instruction

Community Based Instruction (CBI) promotes the teaching and use of academic and functional skills in the student's natural community environment.

Self-Determination

Possessing self-determination means students have the abilities and opportunities to move their life in a direction they desire. Students possessing self-determination are typically more academically successful, actively contribute to their future plans and report higher satisfaction with the quality of their life.

Transition Assessment

Assists students and families to identify and plan for post-secondary goals and adult roles. Assessments help students and families identify postsecondary goals and community roles the student wishes to reach.

Life Centered Education (LCE) Transition Curriculum

Researched based program designed for students whose ability to live independently is in question.

Generalization

Teaching and training skills with the intent that the student can apply the skill across various settings and situations. Learning to grocery shop at one local store is helpful but knowing how to shop in new stores in any city is a life-long skill.