News
Dana's Brag Board -- 7/7/21
Posted July 07, 2021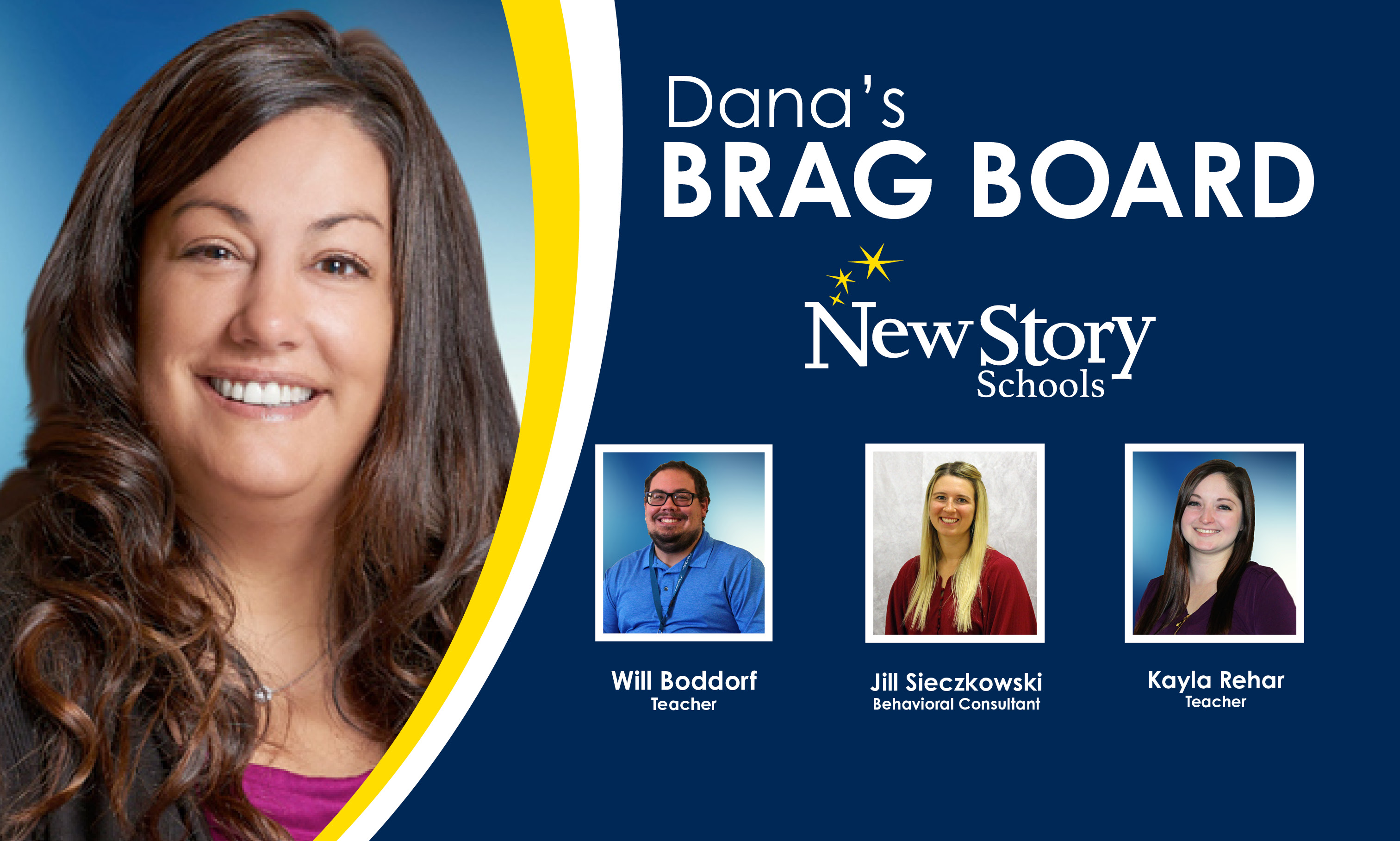 At New Story Schools, we are always so proud of our team members' ability to go above and beyond in their work. Our team members have a difficult job as it is, but I often see and hear of stories where they show their true love for the profession by going above and beyond. In this monthly series, I would like to take some time to recognize our team members who put in the extra effort and to brag about them a little bit. We truly appreciate all the work our team members do, and we especially appreciate when they do more, often without provocation.
I hope that you can join me in recognizing these instances of excellence. For my next entries in the series, read below.
William Boddorf, Special Education Teacher
William is a Special Education Teacher at New Story Schools in DuBois, Pennsylvania. He recently earned his private academic teaching certificate.
Will started his career with New Story Schools as a long-term substitute teacher in 2020, prior to the COVID-19 shutdown. He was able to take advantage of the shutdown and transition into remote learning with his students. When New Story Schools DuBois had an opening for a special education teacher after the end of the school year, we were grateful that Will had applied and was eventually offered the position.
Will started the school year teaching the middle school emotional support classroom. During this time, he had the courage to continue his education in taking courses and to earn his private academic teaching certificate this past year. Will brings energy to the school every day and is committed to the growth and development of the students!
Kayla Rehar, Special Education Teacher
Kayla is a Special Education Teacher at New Story Schools in DuBois, Pennsylvania. She recently earned her master's degree in special education.
Kayla returned to New Story Schools as our Regional Remote Learning Teacher. In this new role, Kayla has been able to grow our distance learning program. She brings so much energy in her commitment to teaching and growing students and is passionate about her personal and professional growth, which is evident in her recent completion of her master's program. It is exciting to watch Kayla grow, and her energy reflects on everyone she works with.
Kayla was recently featured for the role she played in one of our student success stories: Student Find Success through PECS
Jill Sieczkowski, Behavioral Consultant
Jill is a Behavioral Consultant at New Story Schools in Monroeville, Pennsylvania. She recently earned certification as Board Certified Assistant Behavior Analyst (BCaBA).
Jill began her career with New Story Schools Monroeville as an Academic Behavior Support Staff and was quickly promoted to Crisis Intervention Specialist. Her experience in the areas of verbal de-escalation and crisis intervention made a smooth transition into her role. Since serving as a Crisis Intervention Specialist, Jill has continued to be an integral part of the behavior team. She has most recently served as a Behavior Consultant and has demonstrated her ability to develop and assess behavioral goals, communicate effectively with students and staff, aide students through difficult times utilizing de-escalation techniques, and manage the Nonviolent Physical Crisis Intervention process with ease. Jill models New Story's values of integrity, courage, belonging, and commitment.
Jill's drive to grow and learn more is illustrated by her desire to get her Private Teaching Certification as well as attending the BCaBA program through the Florida Institute of Technology to further her knowledge and application of the principles of Applied Behavior Analysis.
It is with great excitement that New Story Monroeville congratulates Jill on her accomplishments and looks forward to Jill serving as a Board Certified Assistant Behavior Analyst in the fall. In this role, Jill will continue to provide high-quality academic and clinical services for New Story Monroeville's students, mentor peer clinicians through supervision, and model intervention programs with fidelity. Our team is thankful to have Jill serving as a leader within our building!
Jill was recently featured for the role she played in one of our student success stories: Student Find Success through PECS