News
Rivermont and Your Life ABA to Host Roanoke Southeast Job Fair
Posted July 20, 2022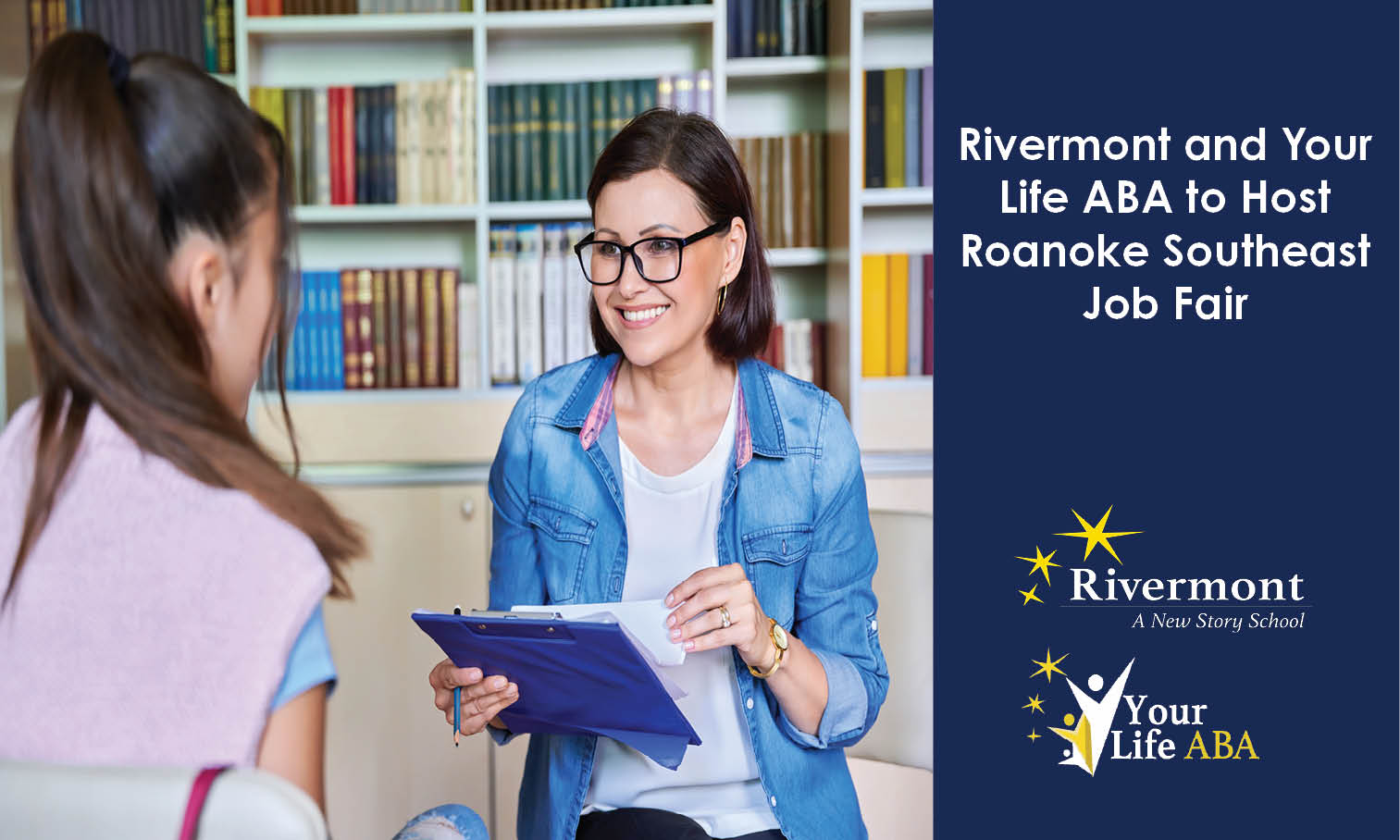 Rivermont Schools and Your Life ABA are hosting a job fair at our campus in Roanoke Southeast, Virginia, and we are seeking qualified individuals to join our teams! The job fair will take place on Wednesday, July 27th from 4pm to 6pm at 1314 Riverland Road S.E. Roanoke, VA 24014.  
We are hiring for several different positions, including Mental Health Associates and Pre-K Teachers. Mental Health Associates will provide instructional support to assigned student(s) implementing assigned tasks, methods, and techniques from Applied Behavior Analysis (ABA) and Verbal Behavior (VB) for students with Autism Spectrum Disorder and/or other developmental disabilities. Special Education Teachers, under the supervision of the Principal, Assistant Principal, and/or BCBA/BCaBA, will provide academic instruction and mentors students in a team environment. They are responsible for overseeing the classroom team, including the dynamics and functioning of all staff within their classroom to fulfill the individual curriculum and self-care needs of the students. 
Rivermont and Your Life ABA Employees will receive competitive pay and benefits including: 
Medical, Dental, Vision, and Health Savings Account (HSA) 

Company-paid Short-Term Disability and Life Insurance 
Voluntary Life Insurance, Long-Term Disability, Hospital, and Accident Coverage 

Paid time off and paid holidays 

Tuition reimbursement 

401K with 100% vested company contribution 

Healthcare, dependent care, and commuter Flexible Spending Accounts (FSA) 
Employee Assistance Program (EAP) 

Wellness Incentive Program 

Employee Discount Program 

Rewards program which allows you to earn points to purchase items 
All of our schools are equipped with a multidisciplinary team of special education teachers, speech therapists, occupational therapists, behavior analysts and technicians, counselors, and support staff in providing students with appropriate interventions. Additionally, Your Life ABA clinic staff work exclusively in the autism and related disability community and have the experience needed to build success for our clients and our clinics. 
Rivermont, A New Story School, and Your Life ABA are part of the New Story family of schools and clinics, and a leading provider of special and alternative education and mental health services for children and young adults with serious and complex challenges. Our mission is to help children with autism spectrum disorder and other developmental delays live the best, most meaningful lives and write new stories of success. Come write your new career story with us! 
Visit https://newstoryjobs.com to learn more