Blog
Why New Story Schools?
Posted: January 10, 2022 | Written By: Berry Thompson | Category: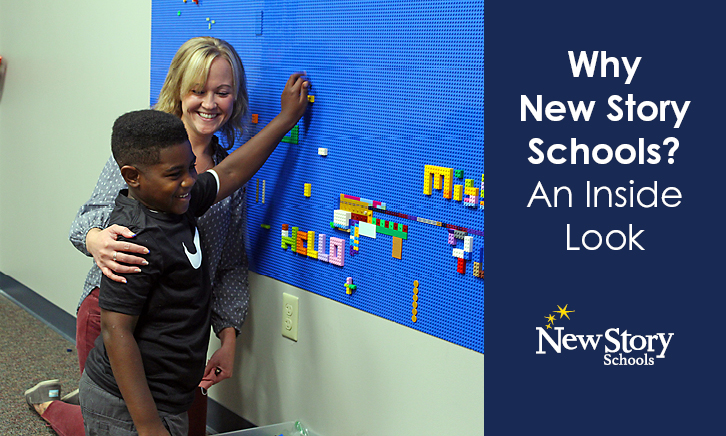 Berry Thompson, Head of School
New Story Schools Ohio
I entered the education field to inspire youth and create an effective and positive impact on the lives of students, while fighting battles in education with them, not for them. I wanted to give students the skills necessary to be successful, however they define it. I wanted to work diligently to remove barriers for any individual whose lack of personal or societal support makes it difficult to remove themselves. Too often, society places labels on individuals, directly impacting their behaviors and self-identity. While labels are easily placed, they sometimes seem impossible to remove. Labels attempt to define people and may limit or motivate student behaviors depending on how they are received.
At New Story Schools, we choose to motivate. We collectively work to remove all the negative societal labels often placed on the children we serve. We work with our families to identify the most effective approach to educating their children, while equipping our staff with the skills required to meet the individualized needs of every student. Our students and their families are afforded the opportunity to scribe a new story – their story. A story where labels are irrelevant, and barriers are broken. A story where anything is possible. A story that matters!
New Story Schools takes a comprehensive approach to educating students. We go the extra mile and do what is necessary to make sure each student's needs are met, and that they have the necessary support to learn, grow, and achieve their goals. Our staff is dedicated to ensuring that each student can reach his or her fullest potential.
What we have to offer:
Behavioral and support services for special education students in grades K-12.
Low student-to-teacher ratios to ensure students receive the hands-on support they need.
The ability to address the needs of the whole student through the integration of Applied Behavior Analysis (ABA), Multi-Tiered System of Supports, Counseling, Trauma-Informed Approach, and Social-Emotional Learning.
A real school experience, from an infrastructure standpoint (classrooms, lockers, a cafeteria, a gymnasium) to social activities (prom, etc.).
So why New Story Schools? Our integrated, intensive, and individualized educational, behavioral, and therapeutic services create a learning environment catered to students' needs and help ensure they are overcoming challenges and achieving success across all areas of their lives. Our unique support model provides students with the tools, skills and confidence to become effective and independent learners, able to succeed in school, find fulfilling careers, and contribute to their communities.
On behalf of everyone at New Story Schools, we look forward to meeting with you and your student to see how we can help your family write a new story of success!
Want to be notified of new articles and resources from New Story Schools? Click here to submit your email and opt into our newsletter.