Blog
Team Member Spotlight: Cassie Bishop
Posted: April 19, 2023 | Written By: Drew Delligatti | Category: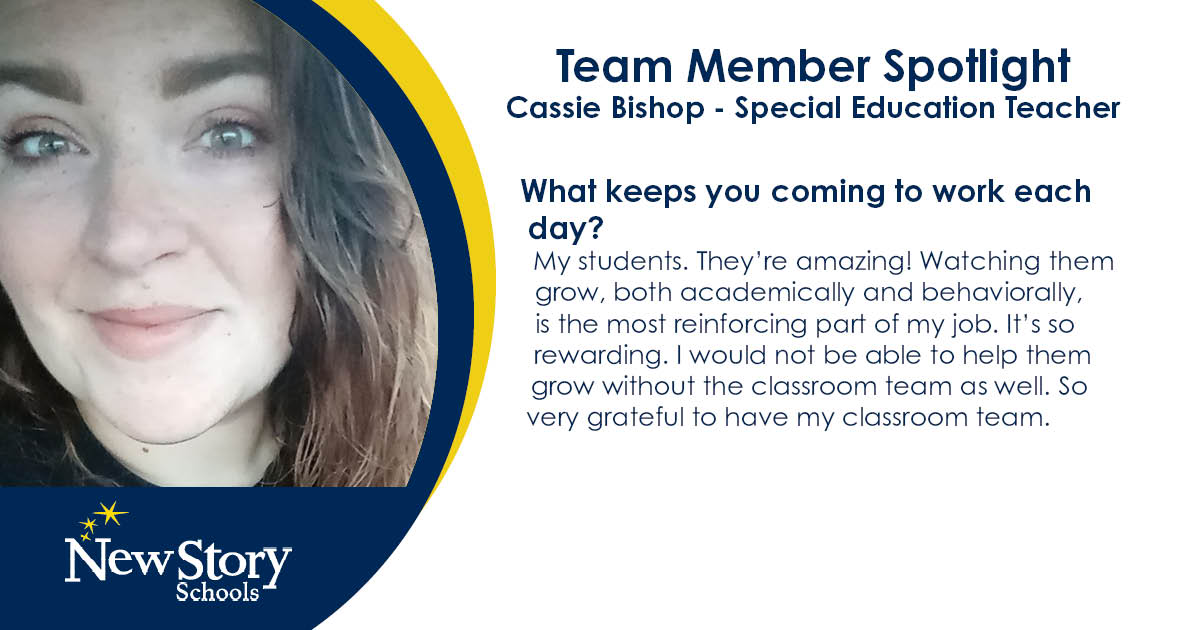 Cassie Bishop, a Special Education Teacher at our New Story School in Wyoming, PA, not only works with elementary school students, but also plays a role on her school's morale committee. Read on to learn what she enjoys most about her role.
Q: What is your favorite thing about working here?
I love New Story Schools so much. My favorite part is the support from the administration team. I've never had a job where I felt so appreciated and heard by my supervisors. I also love collaborating. This school and these teachers work really well together, share resources and it's so fun to be able to bounce those ideas. I feel like it helps us be more well-rounded teachers and I really appreciate that.
Q: What keeps you coming to work each day? 
My students. They're amazing! Watching them grow, both academically and behaviorally, is the most reinforcing part of my job. It's so rewarding. I would not be able to help them grow without the classroom team as well. So very grateful to have my classroom team.  
Q: How do you make an impact on student's lives? 
As a teacher, I obviously want students to excel academically. However, I feel like I'm successful if the students are successful when they know how to identify their needs, cope with their struggles, and advocate for themselves. I want students to leave my room knowing how to say, "This is what my body needs right now. This is what I need to be successful." If students leave my room being able to do that, we did a good job.  
Q: What does a "day in the life" look like for your role?
I spend the first half hour of the morning getting the classroom all set up. I have a very structured classroom with a lot of routines and visuals in place, so it does take quite a bit of prep work. I have very differentiated learners. I have kindergarten through fourth graders right now with lots of abilities. Therefore, we have a lot of independent, individualized work prepped for them. After that, we get to work. In my classroom, we work hard, but we also play hard. We do a ton of hands-on material and games. Every half hour subject, we have dance breaks together and have a lot of fun! 
Q: Can you talk a little bit about your career trajectory and what led you to where you are now?
Through different circumstances, I was unable to complete my public certification of student teaching. So, with my elementary education bachelor's degree, I started working at daycares and trying to get as much educational experience as I could with the limit of not being certified. When I found New Story Schools, I applied to the classroom support role. I started out as an Academic and Behavior Support Staff (ABSS) for my first two years. I had no idea what I was getting into, and I didn't know anything about Applied Behavior Analysis (ABA) or that behavior schools even existed. It has been amazing to open up this world of knowledge! I've grown so much and moved into getting my private certification and have been a special education teacher for the last four years. I'm looking to get my master's degree, but I do have two children of my own, so going back to school is tricky. But I love that New Story has started to offer tuition reimbursement and make building my future a possibility. 
Q: What has been your proudest moment or accomplishment in your role?
Like I said before, my students being able to cope and advocate for themselves is such an accomplishment for me. I am also very proud of the ways I've helped build the community at New Story School's Wyoming, PA campus. My best friend (who is also a teacher) and I helped run the Morale Committee and we are very involved in putting together tons of events for students and staff. These events occur almost once a month and have included things like talent shows, art fairs, and science fairs. I have a lot of pride in being involved with community events that help build rapport around the whole school.
Q: What is something about you that not many people know?
My coworkers would be surprised to learn that I'm very outdoorsy. I love to camp and take long hikes for at least ten miles. 
Want to be notified of new articles and resources from New Story Schools? Click here to submit your email and opt into our newsletter.