Blog
Team Member Spotlight: Anthony Fleming - Mental Health Associate (MHA)
Posted: March 13, 2023 | Written By: Lauren Douglas | Category: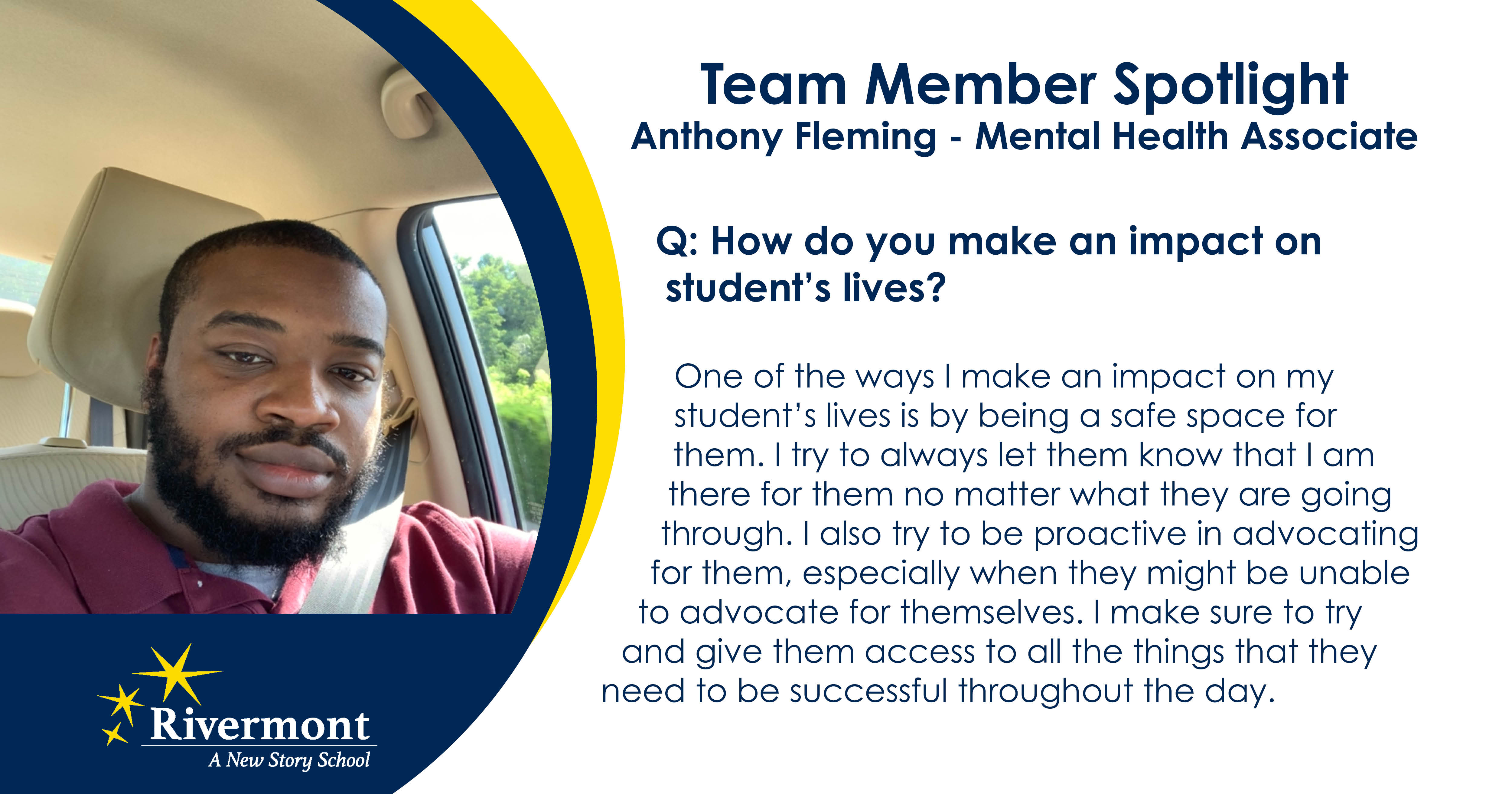 Anthony Fleming is a Mental Health Associate (MHA) for Rivermont's campus in Fredericksburg, Virginia. He has been with Rivermont for six years and is passionate about making an impact in the lives of his students. Learn more about Anthony, his career, and his love for seeing growth in his students.  
Q: What is your favorite thing about working here? 
My favorite thing about working at Rivermont is seeing the progress that students make in real time. I love to see the growth and change that students make while they are here and to see them succeed in all their endeavors.   
Q: What keeps you coming to work each day? 
As I mentioned, I love to see students' growth and progress, so that is what motivates me to show up each day. When I see how hard the students work, that drives me to want to work just as hard as they do and to grow and progress in my career as they grow and progress in their education.  
Q: How do you make an impact on students' lives? 
One of the ways I make an impact on my students' lives is by being a safe space for them. I try to always let them know that I am there for them no matter what they are going through. I also try to be proactive in advocating for them, especially when they might be unable to advocate for themselves. I make sure to try and give them access to all the things that they need to be successful throughout the day.  
Q: What does a "day in the life" look like for your role? 
I start off each morning by greeting the students as they come in, which helps give me a sense of how students are doing, and which ones may be struggling or already having a tough day. I try to pay close attention to them so I can help them get to the root of whatever they might be struggling with and turn it into a growth opportunity throughout the day. In the past, I have worked with students in the Applied Behavior Analysis (ABA) classroom, as well as elementary through middle school, but I am currently working with kids in the high school classrooms. I work with assigned students throughout the day to provide instructional support as needed. 
Q: Can you talk a little bit about your career trajectory and what led you to where you are now? 
I originally started out wanting to be an athletic trainer, but I had a friend who worked at Rivermont and recommended that I join the team. I took the opportunity and it has since turned into my full-time career. I am now earning a degree in behavioral science at Grand Canyon University and will graduate in spring of 2025. After graduating, my goal is to move into a Board-Certified Behavior Analyst position. 
Q: What has been your proudest moment or accomplishment in your role? 
One of the things that has made me most proud is seeing everyone's confidence in me grow. As time has gone on, I have been called upon to handle more responsibility, which shows the trust that staff and students have in me and the level of support that I have behind me. Nothing could make me prouder than being able to see that I am having an impact on all those around me.  
Q: What is something about you that not many people know? 
I was born in Japan at an Air Force base and have lived in several different countries.  
Want to be notified of new articles and resources from New Story Schools? Click here to submit your email and opt into our newsletter.