Blog
Team Member Spotlight: Mark Sprouse - Behavior Support Leader
Posted: March 08, 2023 | Written By: Melody Gopee | Category: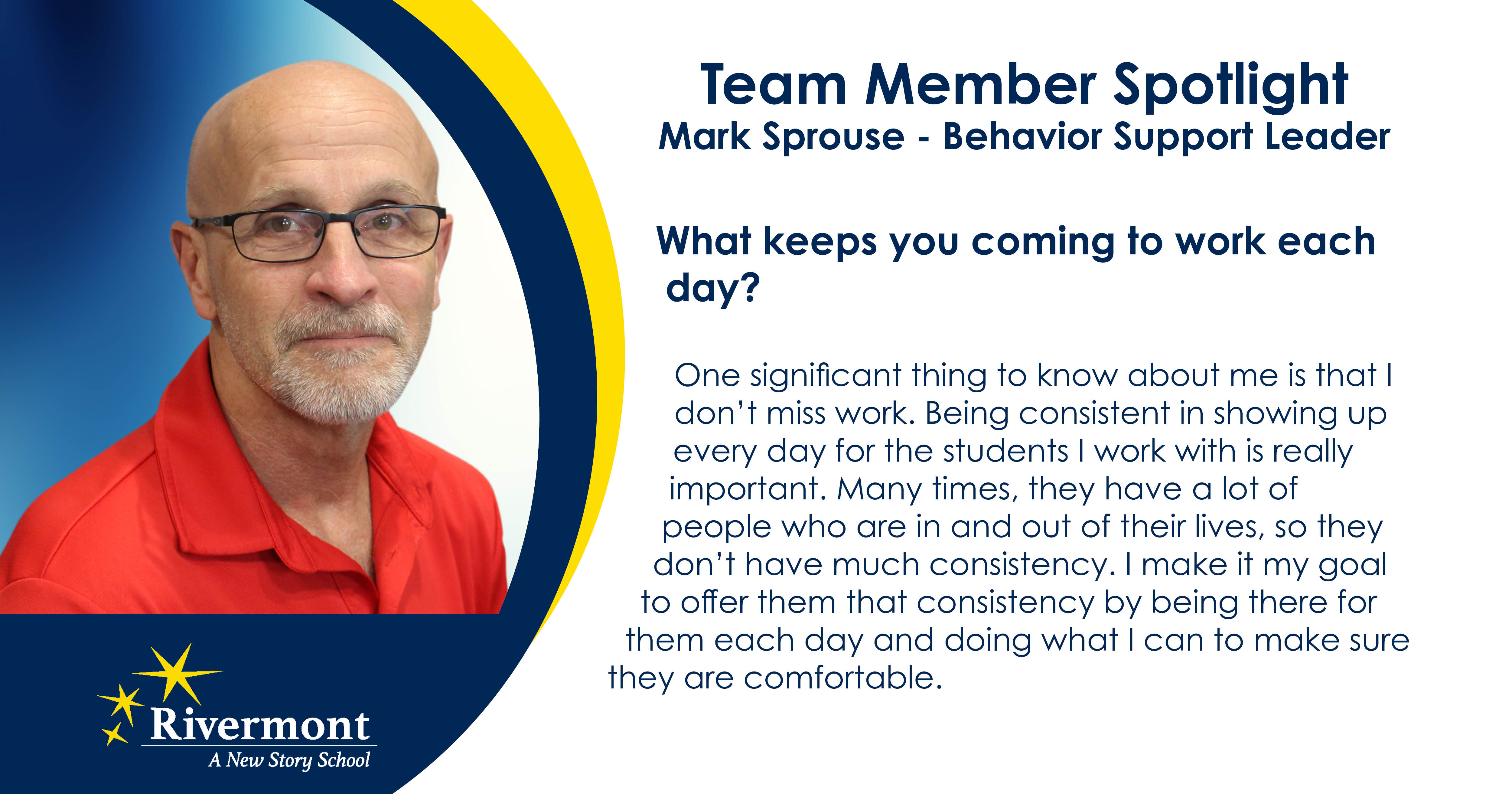 Mark Sprouse is a Professional Behavior Support Leader at Rivermont's campus in Lynchburg South. He has been with Rivermont for 21 years and is highly respected by staff and students. He is a hard worker who is consistent and has made a huge impact on his students lives over the years. Learn more about Mark and the amazing work that he does each and every day.
Q: What is your favorite thing about working here?
My favorite thing is working with the kids and the variation of work that I get to do. I have been working here for 21 years and no two days are the same. I work with all different ages from 5 to 21, so my days are always exciting and never boring.
Q: What keeps you coming to work each day?
One significant thing to know about me is that I don't miss work. Being consistent in showing up every day for the students I work with is really important. Many times, they have a lot of people who are in and out of their lives, so they don't have much consistency. I make it my goal to offer them that consistency by being there for them each day and doing what I can to make sure they are comfortable.
Q: How do you make an impact on student's lives?
Many times, I will have previous students come back and visit me years later to apologize for past behaviors or tell me how much they've changed or simply to reminisce on the time that they spent here. That's how I know that I have made an impact in their lives.
Q: What does a "day in the life" look like for your role?
I arrive to work each day at 6:30 in the morning. I put out the breakfast for students and assist with helping them off the bus and greeting them when they arrive. Throughout the day, I walk around and observe the classrooms and lend a hand where needed. Typically, I can tell first thing in the morning what kind of day my students are going to have, so for the ones that might be struggling, I make sure to check in on them throughout the day. I also put out lunch for the students and go around the classrooms offering extra food and snacks if we have it. If I know of some students who are struggling or having a hard day, I'll have them help me with tasks like putting out the meals so I can spend some quality one-on-one time with them and talk to them about their struggles.
Q: Can you talk a little bit about your career trajectory and what led you to where you are now?
I started out my career in the Marine Corp and then started my own trucking business. I ended up having cancer and stopped working for a while to take care of my health. When I went back to work, I worked at daycare for five years until someone told me I should apply at Rivermont. I followed their advice and started out at Rivermont as a middle school counselor and fell in love with working there. I floated between classrooms to support where needed and then became a Behavior Support Leader several years later which is where I am now.
Q: What has been your proudest moment or accomplishment in your role?
My greatest accomplishments in this role are the lives of the students I have been able to impact. It is always a proud moment for me when previous students come back and talk to me and thank me for my support to them.
Q: What is something about you that not many people know?
My wife and I adopted all three of our children.
Want to be notified of new articles and resources from New Story Schools? Click here to submit your email and opt into our newsletter.