Blog
Power of Partnerships: New Story Schools
Posted: January 19, 2023 | Written By: | Category: Support for Educators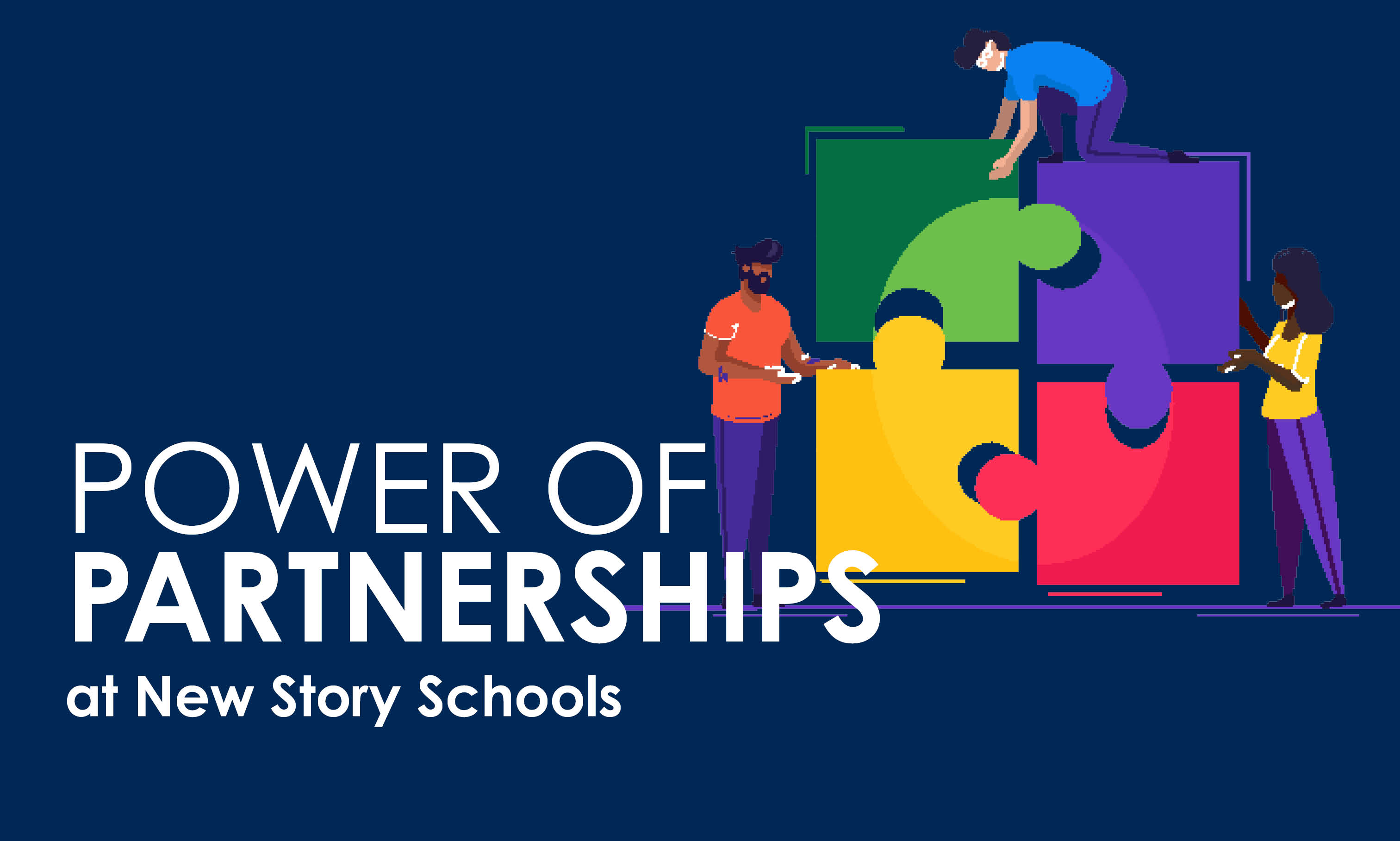 In a new blog series, we will explore the Power of Partnerships, including the ways in which our schools and clinics build strong and sustained relationships in their communities to best support students, clients, families, and community members. Our series kicks off with the New Story Schools DuBois campus and the community and business relationships they've built to promote student leadership skill building, collaboration, and teamwork, while raising awareness of the unique abilities of New Story Schools students.
In late November at New Story Schools' Thanksgiving in a Box event, a line began to form two hours before the pop-up event in Dubois Mall opened, as students readied to hand out the boxed Thanksgiving meals donated by members of the greater Dubois area. The event, led by New Story Schools Dubois, PA campus in partnership with Sunny 106 radio station and the Dubois Mall, is one of dozens of examples of how Timothy Port, Director, New Story Schools, brings his students and staff, small businesses, nonprofits, community organizations, and the local chamber of commerce together to make incredible community impact.
Tim moved into his current role at the Dubois campus five years ago, and set his sights on establishing New Story Schools as a pillar of the community to raise awareness of the abilities of his students and  provide students with community engagement and leadership opportunities. This endeavor was led by his deep belief that when working together, real change happens.
Building partnerships allows schools to share resources, leverage expertise, and create programs that support students, families, and the broader community. Armed with persistence and a mission, Tim found that identifying a local champion who had access to other organizations was key to establishing a partnership program. In this case, the local Chamber of Commerce was the linchpin to introducing Tim and his team to a variety of organizations and businesses and allowed them to hit the ground running with new ideas and the community ready to support them.
Tim and his team's partnerships work had a direct impact on Dubois campus' community events program, which hosts five events throughout the school year where students work hand in hand with community members to give back to Dubois. This fall, the school hosted their annual Thanksgiving in a Box program, where they put together a Thanksgiving meal including a turkey and ingredients to make sides and boxed them up for nearly 80 families. The Dubois Mall provided a store front where students greeted attendees and handed out meals, with promotion and advertising from Sunny 106. They will host a similar event for Easter in the spring.
"Five years ago, I didn't know who New Story Schools were, but once I took the role of the Director it was my personal goal to shine a light on the incredible work we do and that meant working directly with our community," said Tim. "There's so much growth potential for students with disabilities. Partnerships and community engagement allows us to raise awareness of children and adults with disabilities, provide leadership and learning opportunities for our students, but maybe most importantly showcase that when we work together, we can make an impact."
The school's autism awareness and acceptance event in April has grown from a single walk two hours away in Pittsburgh, to a weekend-long event in Dubois, PA. Beginning Friday, a local restaurant hosts a sensory-friendly dinner where families can dine for free or at low cost, surrounded by families with children and young adults with similar diagnosis. On Saturday, the school hosts a 5k, where students man booths, local musicians play for free, and the community comes together to raise awareness of autism spectrum disorder. On Sunday, they host a resource fair, providing families with information and resources from government agencies, nonprofits, community organizations, and more. The weekend closes with sensory bowling where the local bowling alley supports those with special and complex needs by providing lanes with bumpers and rollers for free.
"New Story School makes a presence in the community by offering events to grow the awareness to Autism, helping one another, and kindness," said Sonya Fetterhoff, Sunny 106. "It is important to promote kindness and generosity in the community these days when things may not seem to be not so bright and cheery."
Learn more about how New Story and its network of companies use the power of partnerships to make an impact on student learning and development in our series.
Want to be notified of new articles and resources from New Story Schools? Click here to submit your email and opt into our newsletter.