Blog
Music Therapy Promotes Student Growth and Engagement at New Story Schools Independence
Posted: January 23, 2023 | Written By: Lauren Douglas | Category: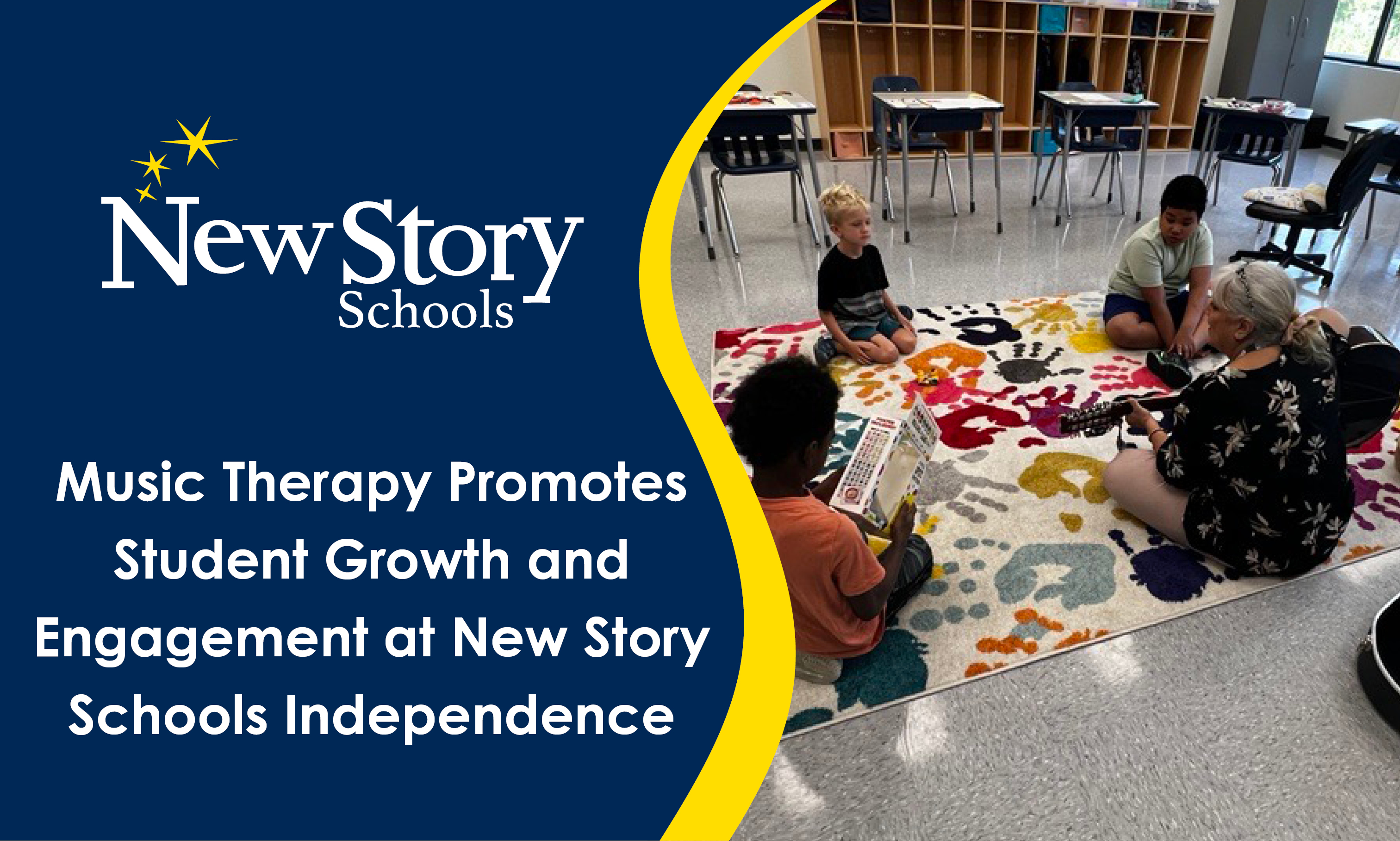 New Story Schools Elementary School Teacher Ann Barni has had major success incorporating music therapy into her classroom at the Independence campus. Learn more about how music therapy helps students engage in learning, communication and activities in and outside the classroom.
Q: How long have you been teaching music therapy/how did you get started?
Over thirty years ago I began my first career as a music therapist in a residential treatment center for children with emotional challenges. This role required me to consider both teaching and therapy components, so my mindset was to constantly think things through in a therapeutic way. Throughout my career, I've applied this to many different teaching roles in art, music, elementary, middle and high school. No matter what role I'm in, my goal is to meet my student exactly where they're at and help them grow from there and music can be a wonderful way to do that.
Q: How do you incorporate music therapy into your classroom?
I incorporate music therapy and music activities throughout the day. One example is I use music during crew, our morning teambuilding meeting, which I begin by greeting my students through song. I also use musical instruments like guitar, drums, and voice to engage students in different types of learning. What's really incredible is to see how both verbal and nonverbal students are able to participate in a variety of ways – sometimes even drawing out speech in students who are nonverbal.
Q: Can you explain some benefits of music therapy?
Music therapy touches on both social and emotional learning. It can help students engage in a group setting as well as help them gauge their own emotions. I play my guitar every day, so even if a student isn't able to communicate verbally, they may participate by strumming the guitar. Songs can be about anything and everything, so incorporating it into curriculum makes learning more fun and engaging for students. For example, we're learning about natural resources right now in class, and we're creating and signing songs based on the lessons, providing different access points for students in learning the curriculum.
Each student in our school has an individualized learning plan (IEP) with goals related to academics, emotional, social and behavioral skills. Music is one way to help students make progress against those goals, and continue their growth and development.
Q: What's your favorite thing about the practice?
My favorite thing in the world is children singing back at me. I think there's nothing more beautiful and innocent than that. Additionally, I love the power that music has to act as a universal language that can bring about so many changes that may not be possible in any other context.
Q: Are there any success stories you'd like to share?
Through music, one of my students has been able to increase her vocalizations. It may not happen instantly, but throughout the day I often hear her singing and verbalizing as she recalls the songs she learned. Most recently, she began practicing spelling and we're so proud of the progress she's making. Another student of mine is able to sing in full sentences, although he is unable to speak in full sentences. The power of music and its positive impact on student progress every day is incredible.
Q: Do you have any tips that families can practice at home?
All students love rhythm! Anything you can do to bring music into verbalization at home makes a difference – humming, singing, tapping a pencil, a pan, etc. Bringing music into normal conversation can serve as a helpful tool to increase verbalizations, like clapping when speaking each word or syllable in a sentence, for example.
Q: Do you have any plans for the future practice of music therapy in your classroom?
I envision the practice continuing to increase and expand. I want to encourage movement and dancing in addition to introducing new instruments such as boomwhackers. All of these serve as useful tools to calm students, keep them engaged, and allows us to meet students exactly where they are.
Want to be notified of new articles and resources from New Story Schools? Click here to submit your email and opt into our newsletter.