Blog
Meet the Teacher: Lauren Mercado
Posted: October 03, 2023 | Written By: Drew Delligatti | Category: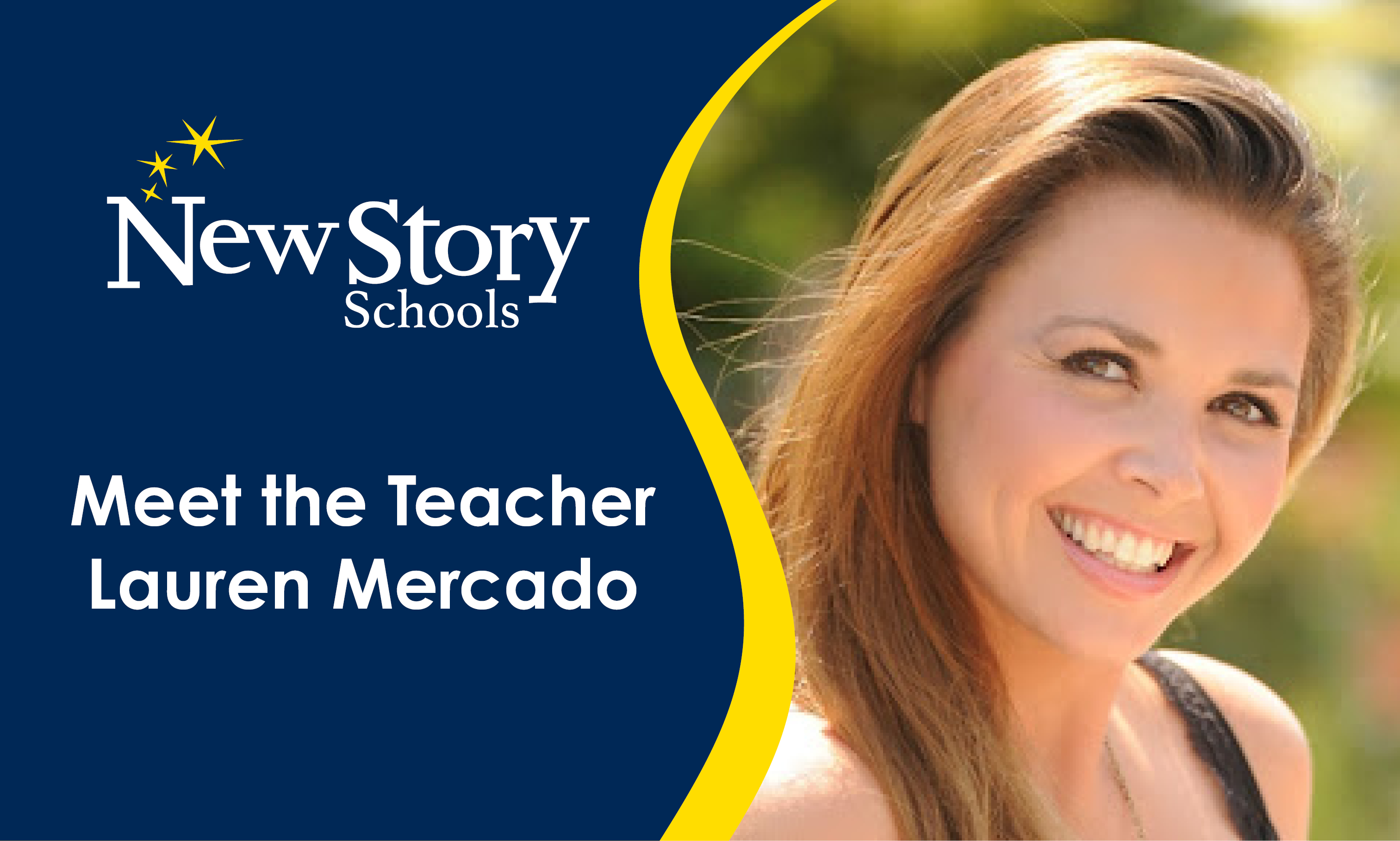 It's Back to School season at New Story Schools! We're inviting you to get a glimpse into the lives of some of our incredible team members who are heading back into the classroom and school building to support our students throughout the 2023-2024 school year. Thank you to all our amazing team members who make an incredible impact on the lives of our students each and every day!
Team member: Lauren Mercado
Title: High School Special Education Teacher
Campus: Carlisle, PA
Q: Can you tell me a little bit about your family? 
I come from a military family, so I have lived all over. I was born in Kentucky and mostly raised in Georgia and the south, so my accent is all over the place. Oddly enough, I met my husband in a gift shop in a hotel! I was going to the University of Georgia at the time for my teaching degree and I ended up getting a modeling contract with an agency in New York. My husband was from Pennsylvania, so I moved in the same town as he lived coincidentally far of a commute. We became closer-cut to--we got married and have three beautiful children!
Q: Do you have any hobbies? 
I love to read. We go hiking a lot and we also go kayaking. I am a huge equestrian, so I love riding horses. We also go camping all the time, but it is RV camping. We like to take a couple of weeks off during the summer and drive through the country and see all the silly things like the world's largest bottle of ketchup.
Q: What was your favorite subject in school? 
Science and reading. But also math because it is the same in every language.
Q: What is your favorite thing about your job? 
I love being the person that turns the light bulb on. I love being the one that hangs out with the students and does all these fun activities with them. I just love being here with them. Ninety percent of my job is just showing up. If I show up in their lives, then I've done most of my job.
Q: What are you most excited about for back to school?
Because of my STEM curriculum background, I am given a lot of leeway to making my own curricula and teaching the students certain things. For example, the other day we tried to make a light bulb light up with a lemon. So, anything that we're doing that is STEM or STEAM related, they give me agency to hone in on the fact that understanding is doing and doing is understanding. In a lot of subjects, I say something, and the students say it back to me. But being able to apply it is very different.
Q: Can you tell me about an achievement that you have seen from your position? 
I received the New Teacher of the Year award in my first year of teaching. I was a keynote speaker at two different graduations. I've been able to get grants for STEM and English. When I apply for the grants, I don't just promote autism, but I show people all of the incredible things our students are doing and are capable of and convince them to help us do more of it.
Q: Do you have any future goals? 
I'm going to start my doctorate in curriculum and STEM in October. It is a lot about the science of reading, including breaking down words and helping students who have trouble reading. It's always been my dream to be a professor and to teach others how to teach special education. I would also love to write curriculum for children with autism who are high on the academic mark.
Q: Tell me a surprising fun fact or something that no one knows about you  
I danced in the Macy's Thanksgiving Day Parade two years in a row. This was in 1995 and 1996. I went to dance camp and we went up to dance in the parade. We spent Thanksgiving in New York in a really nice hotel and it was incredible, but very cold.
Want to be notified of new articles and resources from New Story Schools? Click here to submit your email and opt into our newsletter.