Blog
Meet the Teacher: Michael Byers
Posted: October 06, 2023 | Written By: Lauren Douglas | Category: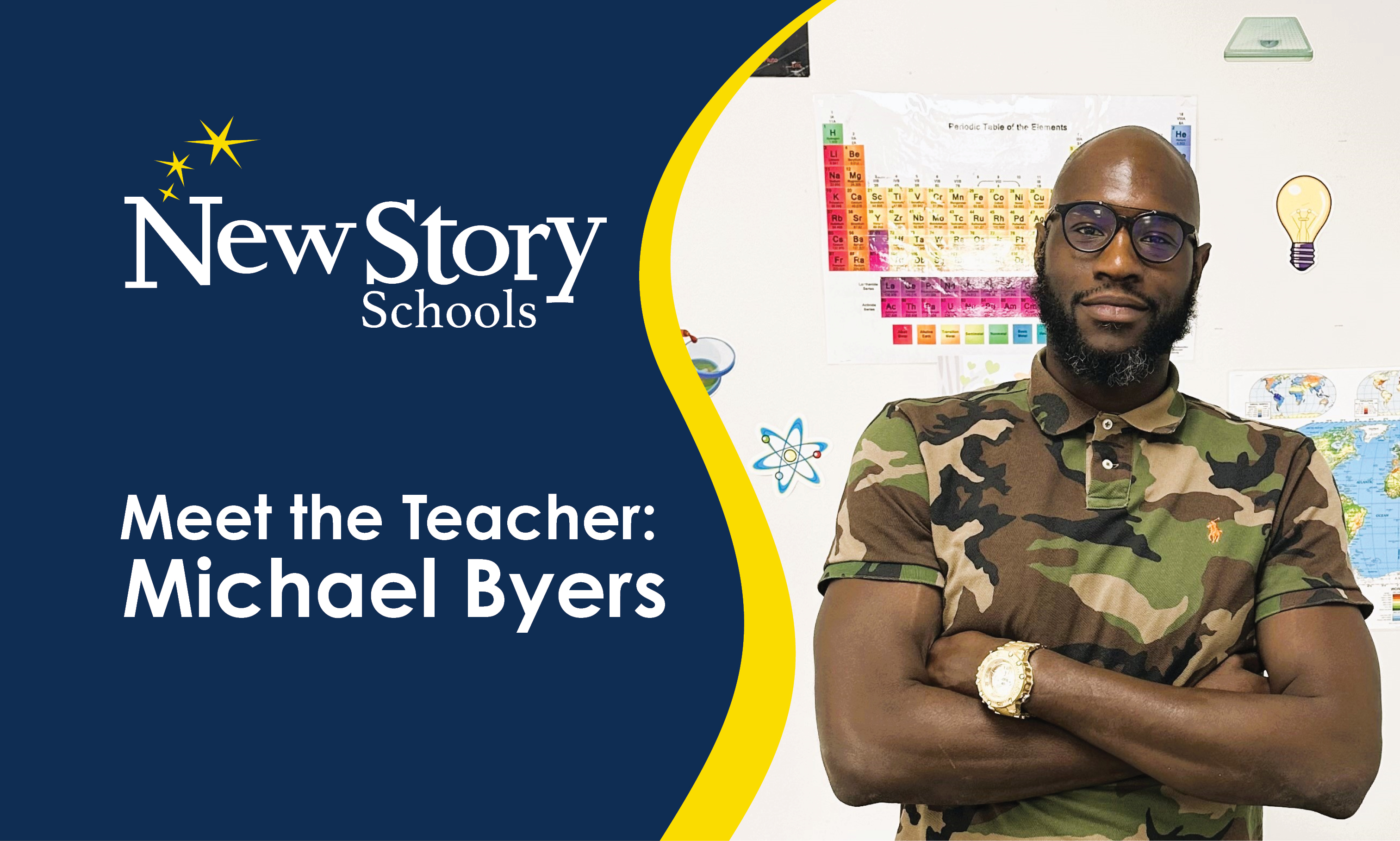 Michael is an educator who is passionate about providing a supportive setting for students to thrive in. Learn more about how he has become an advocate for an inclusive and unified learning environment for students with autism, behavioral and emotional challenges.  
Q: What is your role at New Story Schools? 
I am currently a High School Science teacher at New Story Schools Columbus. 
Q: What is your favorite thing about your job? 
My favorite thing about my job is getting to be an integral part of my students' academic and social development. It is rewarding to see their continuous growth and maturing. 
Q: What inspired you to advocate for our schools to recognize October as Anti-Bullying month? 
I noticed a need for improvement amongst our students socially, especially in identifying and understanding the impact of bullying. During the first couple of days in school I observed the way various groups of students were interacting and I was motivated to create change. Growth occurs most when we feel included, valued, and unified. I believe with us recognizing and advocating for positive change and actively making anti-bullying a part of New Story's culture, we are effectively setting an example and standard for our students to follow.  
Initially, my goal was to improve the culture, attitudes, and reduce the barriers to education of our students. I am so proud to see what my anti-bullying initiative started and how the movement has grown. It was one of those things everyone was ready to tackle, it just took someone stepping up to the plate – ready to hit a homerun for our students. I believe we will spark change within our students, schools, and communities. 
Q: Why is it important for our staff and students to participate in Anti-Bullying month?  
It is extremely important for our entire school to participate in Anti-Bullying month because our students look up to us as real-life superheroes. Children look for role models to pattern their behavior after and we as teachers set the tone for students to follow. By presenting a unified front and collectively participating in October's anti-bullying festivities, we demonstrate our expectations to students while reinforcing that we always have their backs. 
Q: What are you most excited about for the upcoming Anti-Bullying Spirit Week? 
I am most excited about the pep rally because we will be building up to Thursday's main event with daily spirit week activities. Each day's activities are strategically planned to incorporate fun while unifying the students. We're demonstrating that we are one team taking a stand against bullying. The pep rally will tie together the entire week, while educating students on what bully behavior looks like and how it affects others. This will allow the students to interact with each other, learn, and grow. 
Want to be notified of new articles and resources from New Story Schools? Click here to submit your email and opt into our newsletter.