News
Dana's Brag Board -- 7/28/21
Posted July 28, 2021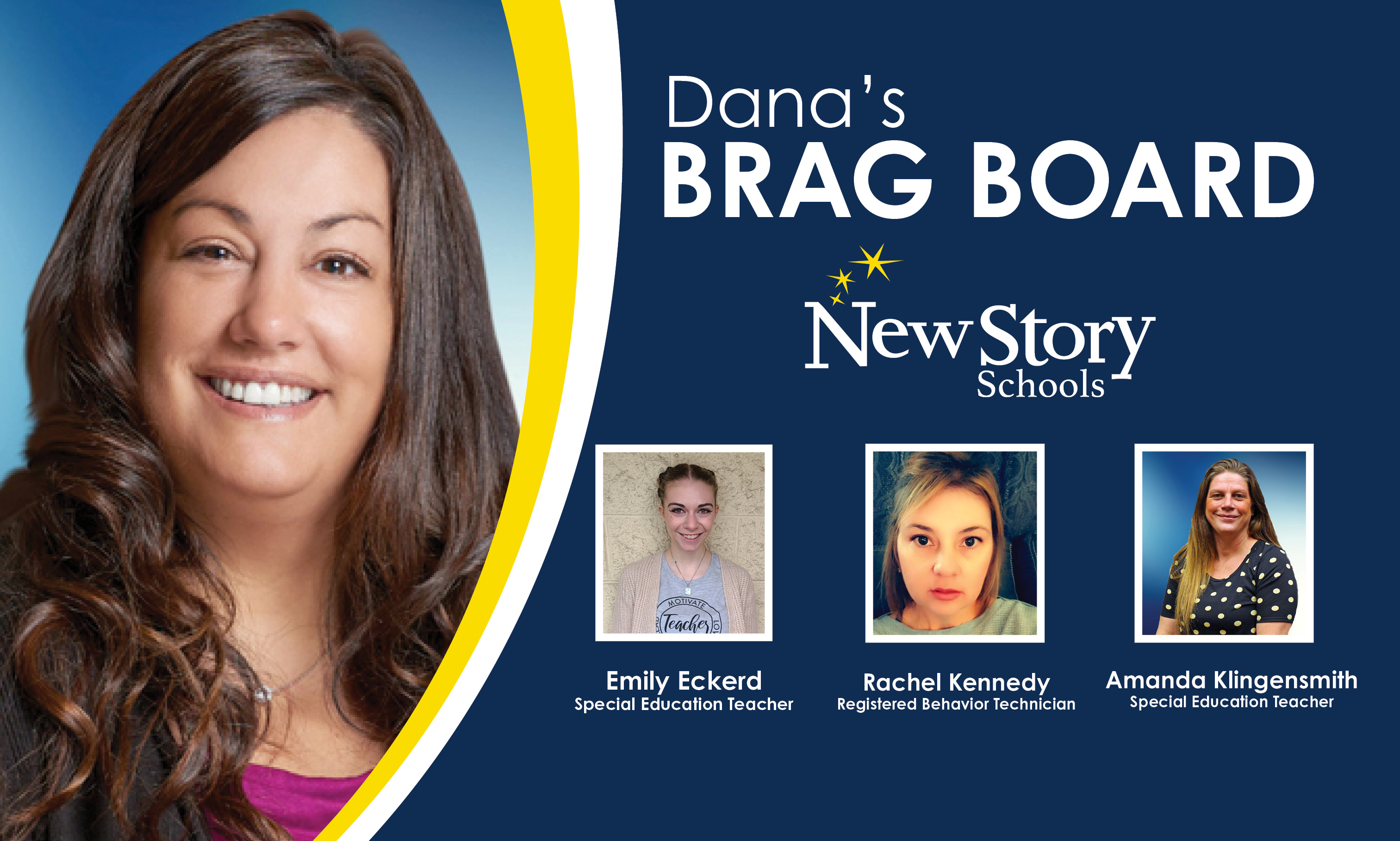 At New Story Schools, we are always so proud of our team members' ability to go above and beyond in their work. Our team members have a difficult job as it is, but I often see and hear of stories where they show their true love for the profession by going above and beyond. In this monthly series, I would like to take some time to recognize our team members who put in the extra effort and to brag about them a little bit. We truly appreciate all the work our team members do, and we especially appreciate when they do more, often without provocation.
I hope that you can join me in recognizing these instances of excellence. For my next entries in the series, read below.
Emily Eckerd, Special Education Teacher
Emily "Millie" Eckerd is a Special Education Teacher at New Story Schools in Indiana, PA. She recently obtained her Private Academic Teaching Certificate and is serving as a Special Education Teacher for K-2nd grade emotional support.
Emily is a passionate educator and takes time to help her students love learning. Since moving into her role, Emily's students have seen great academic success as she takes time to provide explicit direct instruction, which helps students make progress toward their academic goals.
Emily is energetic, fun and provides many opportunities for her students to engage in learning throughout their day. In addition, Emily's commitment to learning is demonstrated in her own life as she is currently in the process of completing coursework for her Reading Specialist certification.
We are grateful for the expertise and knowledge Emily brings to the classroom. It is exciting to see Emily grow, and we are honored to have her on our team!
Rachel Kennedy, Registered Behavior Technician
Rachel Kennedy is an Academic and Behavior Support Staff at New Story Schools in Monroeville, PA. She recently completed her Registered Behavior Technician coursework through the Florida Institute of Technology and sat for her exam. As a Registered Behavior Technician, Rachel will continue to provide academic and behavior support within the classroom, as well as assist in delivering behavior analysis services to students.
Rachel demonstrates New Story's value of commitment through her devotion to student success. Throughout the pandemic and Extended School Year, Rachel has worked 1:1 in enhanced remote learning to provide academic and behavioral support to a Monroeville student. She also assists the student in participating in related services remotely.
Rachel makes it a priority to provide specific, verbal praise and edible reinforcement while simultaneously collecting academic and behavioral data. Throughout this journey, Rachel has created original, supplemental materials for her student to increase engagement. Rachel's skillsets in collaboration and communication do not go unnoticed. She does an incredible job sharing progress and levels of regressions with the student's immediate team, in order to problem solve and keep the student on a successful track. Rachel brings energy to the Monroeville team and shows up each day ready to provide support to both students and staff.
Amanda Klingensmith, Special Education Teacher
Amanda Klingensmith is a Special Education Teacher at New Story Schools in Indiana, PA. She recently finished coursework in special education and will be able to obtain a private certification in the near future.
Amanda began at New Story Schools as an Academic and Behavior Support Staff with a background in early childhood and elementary education. Amanda's leadership and passion for education quickly shined through and she was promoted to a long-term substitute teaching position.
Since completing her special education coursework, Amanda has moved into a Special Education Teacher role and currently leads an upper elementary emotional support classroom. Amanda has the unique ability to conquer challenging days with a positive mindset and takes times to focus on rapport building with her team and students. She is a nurturing teacher and an exceptional team player.
New Story Schools Indiana is proud of the hard work and dedication Amanda put into completing coursework and value the role she plays within our school. We look forward to seeing Amanda continue to shine as a New Story Schools teacher!