Blog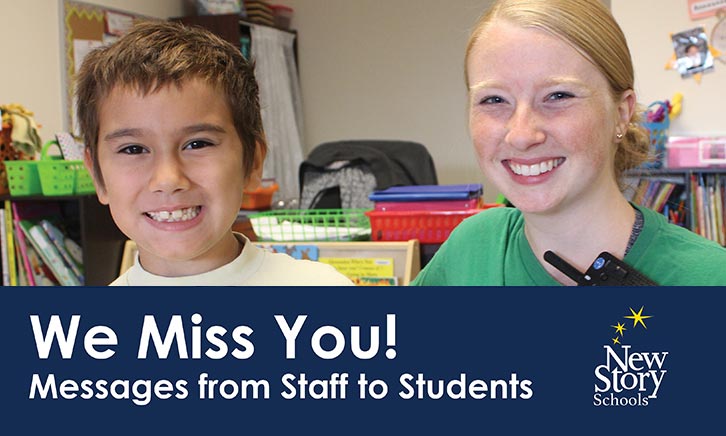 Though we've connected virtually, our staff has missed our students during the COVID-19 shutdowns. Check out these videos they created to stay in touch.
Berwick:
New Story Schools staff in Berwick joined together to send fun messages to students. We're all stuck at home right now, but we'll be back together before you know it!
Wyomissing:
New Story on Wyomissing Boulevard near Reading, PA had a lot of fun telling students we miss them!
Perkiomen:
New Story Staff on Perkiomen Avenue in Reading, PA each wrote a little message to their students reminding them to stay safe, stay at home, and remember that they're not alone!
New Holland:
New Story Schools on New Holland Road in Reading, PA reached out to show students how much they miss them!
Harrisburg:
New Story Schools in Harrisburg wishes all their students a healthy and safe quarantine!
Throop:
New Story Schools in Throop had some fun puns to share with students!
Clearfield, Dubois, Indiana:
New Story Schools in Clearfield, Dubois and in Indiana teamed up to send messages of hope and care to their students. Even though we're far apart, we still care about each other!
Wyoming:
New Story Schools in Wyoming, PA shared some messages of community care this week. Check them out, and look for your teacher!
Monroeville:
New Story Schools in Monroeville wants to remind their students and families that they are missed! Stay healthy, stay safe and keep your spirits up!
Lancaster:
New Story Schools in Lancaster have some important messages for their students and families! Even though we're far apart, we still a vibrant community!
New Cumberland:
New Story Schools in New Cumberland is eager to reassure students that they are sorely missed during this pandemic. Soon we will be together again!
Selinsgrove:
New Story Schools in Selinsgrove sent out some fun messages from teachers and staff to remind their students to stay safe, healthy and positive! Everyone misses their students and all the fun things they usually do.
Want to be notified of new articles and resources from New Story Schools? Click here to submit your email and opt into our newsletter.