Blog
Team Member Spotlight: Rachel Gallaugher - Mental Health Associate (MHA)
Posted: June 05, 2023 | Written By: Sharmin Hossain | Category: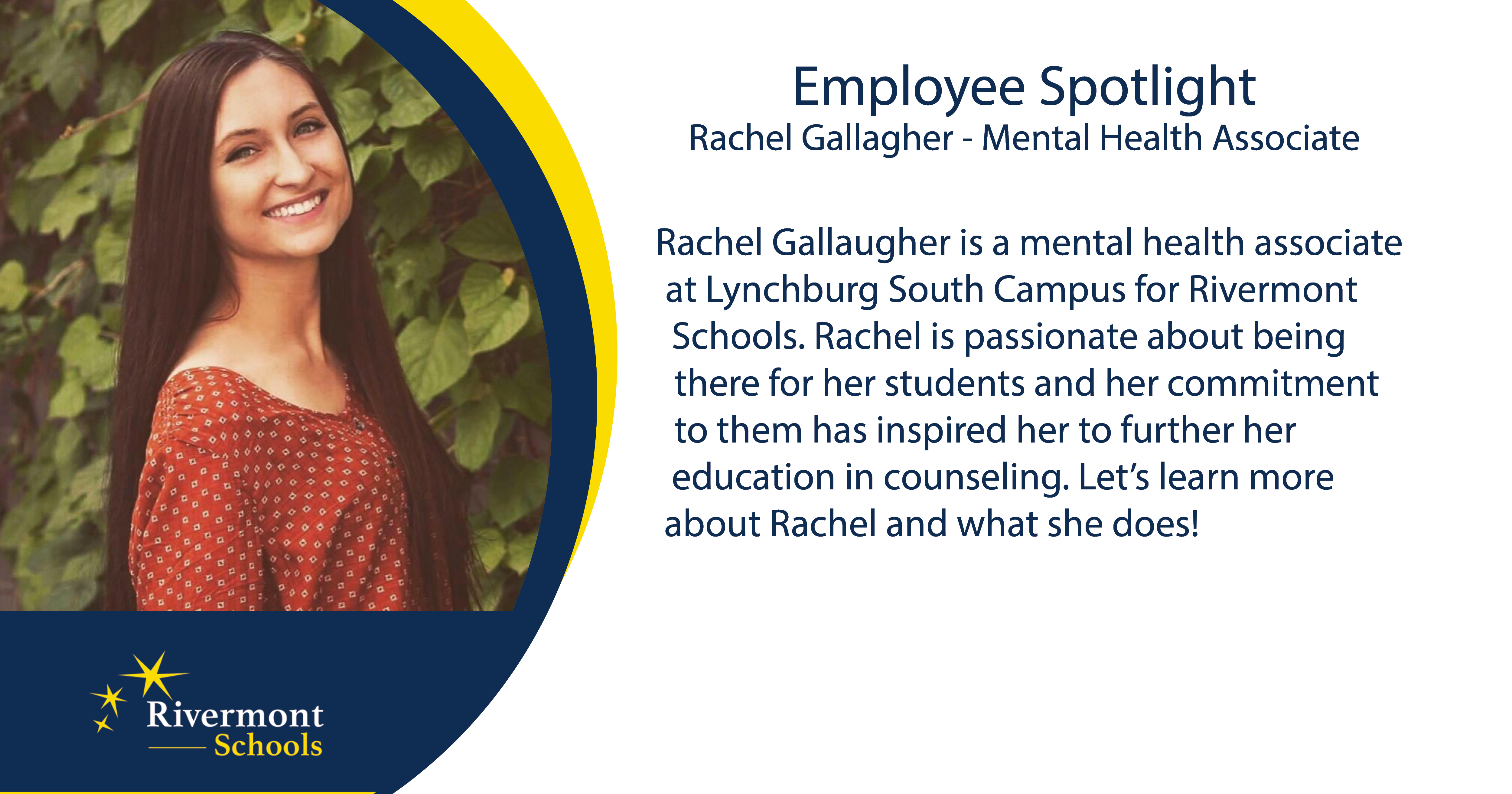 Rachel Gallaugher is a mental health associate at Lynchburg South Campus for Rivermont Schools. Rachel is passionate about being there for her students and her commitment to them has inspired her to further her education in counseling. Let's learn more about Rachel and what she does!
Q: What is your favorite thing about working here?
I love getting to know the kids and their different personalities. I love the support the staff gives to everybody. Everyone is always asking each other if they need help and are willing to jump in when needed. It feels good to know that I have a supportive team behind me.
Q: What keeps you coming to work each day?
At Lynchburg South, we are working with a lot of students that have OCD, anxiety, and other mental health issues. Being able to help each student also allows me to reflect on myself. Not only am I teaching them important lessons, but I am also learning it myself too and applying it to my own life.
Q: How do you make an impact on student's lives?
Being able to get to know them and finding common interests helps me make an impact on student's lives. A lot of the time, my students think that because we are adults, we do not tend to like the same things they do. But, when they talk to us about video games, characters, movies, or memes, we bond more. It makes it a lot more fun when I can understand what they are talking about. They appreciate that I can understand it too. They also get so excited to tell me more about new things.
Q: What does a "day in the life" look like for your role?
A lot of the time, we are helping students when they need to take a break. We take quick walks or hang out in the coping skills room. If a student is having hard day, we will step aside and talk with them to assess how we can be successful for the day. We use "points and levels" to review how their day went.
Q: Can you talk a little bit about your career trajectory and what led you to where you are now?
In 2021, I graduated from James Madison University with a master's degree in teaching. Through my experiences, especially during the peak of the COVID-19 pandemic, I realized that I was starting to step away from teaching in a standard, general education in a public-school classroom. I found a love for the counseling side more. I was a paraprofessional in a special education classroom before I joined Rivermont Schools. I loved being able to help students who were going through a hard time emotionally, which led to me to my current position. This inspired me to pursue a master's degree in counseling.
Q: What has been your proudest moment or accomplishment in your role?
I work with the lower elementary classes (first grade through fourth grade) where I mostly work with the two first grade students we have. I feel accomplished when I am working with them on a unit, and I watch them be able to pick up the information and come in the next day remembering the lessons they learned. It makes me proud to see their growth and excitement for learning.
Q: What is something about you that not many people know?
I am tongue-tied. Normally, it can affect someone's speech, but the doctors thought I was fine. Another fun fact is that I know how to say the alphabet backwards.
Want to be notified of new articles and resources from New Story Schools? Click here to submit your email and opt into our newsletter.