Blog
On the Road Across Ohio: Day in the Life of an Outreach Program Team Member
Posted: December 20, 2022 | Written By: Lauren Douglas | Category: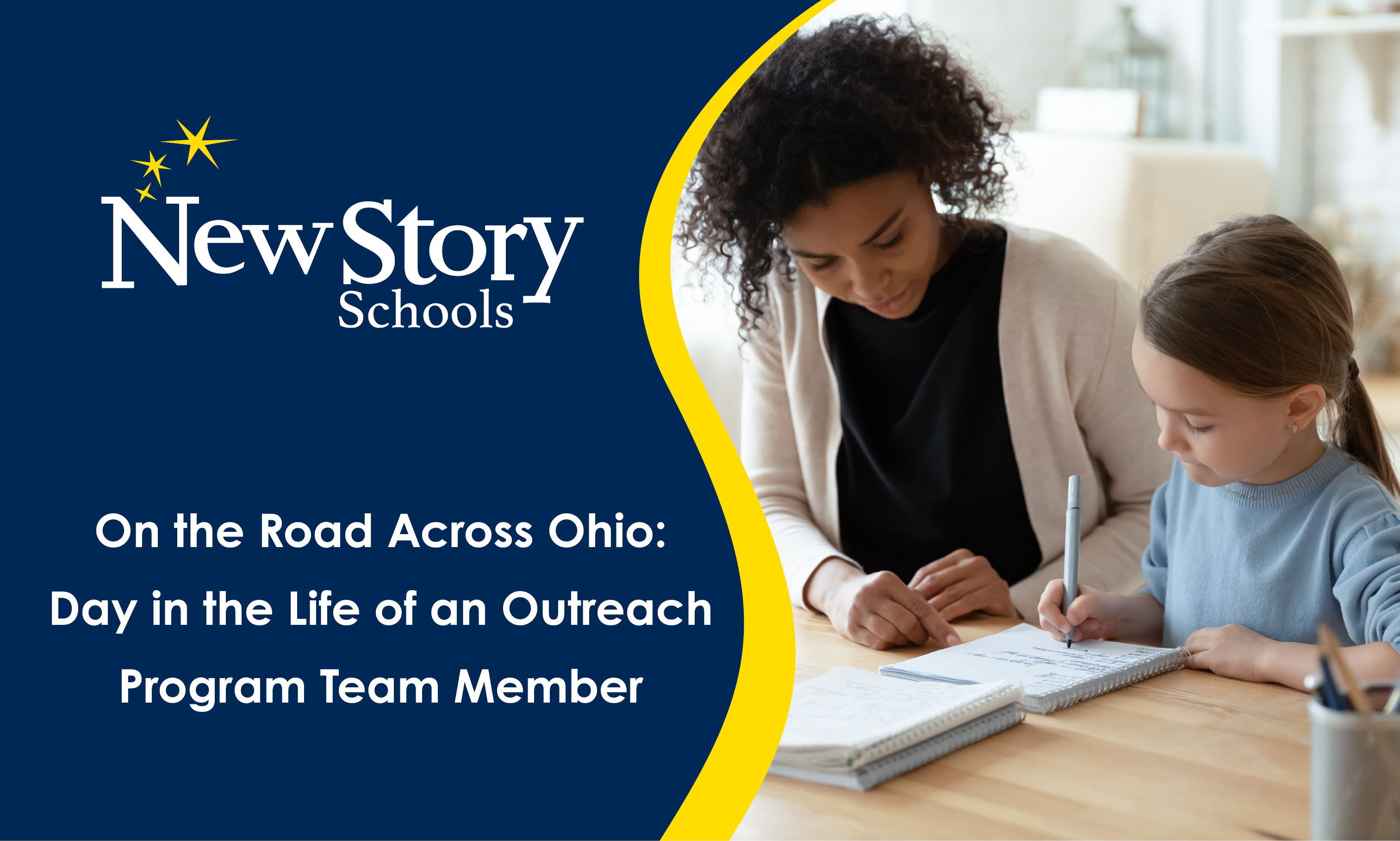 New Story Schools in Ohio not only serves students in the classroom, but also at home and virtually through their Outreach program. Led by Shannon Huber, In District Consultation and Outreach Director, the Outreach program provides students with academic programming and behavioral support outside of a traditional school setting. Learn more about what makes the outreach program unique, and what a typical day is for a New Story Schools Outreach team member.
Q: What's an average day in an outreach role?
A: We're always on the move! But the average day varies by role. Our consultants work with students ages 3-22 across the state of Ohio and their caseload is split up accordingly. With that, they essentially write programs, gather curriculum, and put together goals and objectives for our students based on their Individualized Education Program (IEP) goals. To supplement these goals, they put together additional programming for communications, self-help, daily living, and social skills.
Our tutors go into students' homes to work one-on-one on the programs that are developed by the consultants. They may have a varied caseload, which is something that makes their role unique. Tutors have the opportunity to work with many different ages and assist students with a wide variety of goals and needs. The tutors work closely with consultants to collaborate and align on each student's specific programming. Being in the home setting, they see entirely different types of growth and dynamics that may not be seen in the school setting.
As director, I do a lot of the back-end work such as the intake process of speaking with families and explaining the outreach program, training consultants and tutors, interviewing, and placing the appropriate staff with each student based on a multitude of factors. I'm travelling constantly and spend most of my time on the road.
Q: Since our outreach team members are typically on the go, how do you ensure strong collaboration among your colleagues?
A: Communication is key! In this program we collaborate and communicate frequently. Our primary focus is the success of each student, so we work together to help our students reach their goals. This means often working in nontraditional settings and hours; this definitely isn't your typical desk job.
Q: How do you make an impact on students and families?
A: The outreach program is special in its ability to offer one-on-one support with individualized and tailored programming. We're able to provide that additional support and help families see growth academically, socially, and in daily living while working toward the goal of eventually transitioning to a school setting.
Q: What is most valuable to you about your work in outreach?
A: This kind of program is huge for families that may not have access to brick-and-mortar facilities. It allows them to receive the high-quality support and programming we offer, but from their homes. Additionally, we can be really involved with the family and make an even bigger impact through seeing students in their home environment.
Q: What do you find unique about this role and working as part of the outreach program?
A: There are many things that make outreach roles unique. The schedule is nice because we can be flexible and no day is ever the same, which I find exciting. We can access new parts of the state outside of the communities that our schools serve. This allows us to have an impact on more families and their communities, and learn about what makes them each unique and special. We can utilize funding streams that allow us to reach every corner of Ohio. Our consultants come from a variety of backgrounds and experiences, which allows us to provide students with the most specialized and effective guidance.
Q: Where do you see the outreach program a year from now?
A: I see our program continuing to grow and improve. We're very excited about starting our new virtual options because it will open so many doors for current students, prospective students, and Ohio communities.
Want to be notified of new articles and resources from New Story Schools? Click here to submit your email and opt into our newsletter.