Blog
Meet the Teacher: Jenna Lo Menzo
Posted: September 13, 2023 | Written By: Drew Delligatti | Category: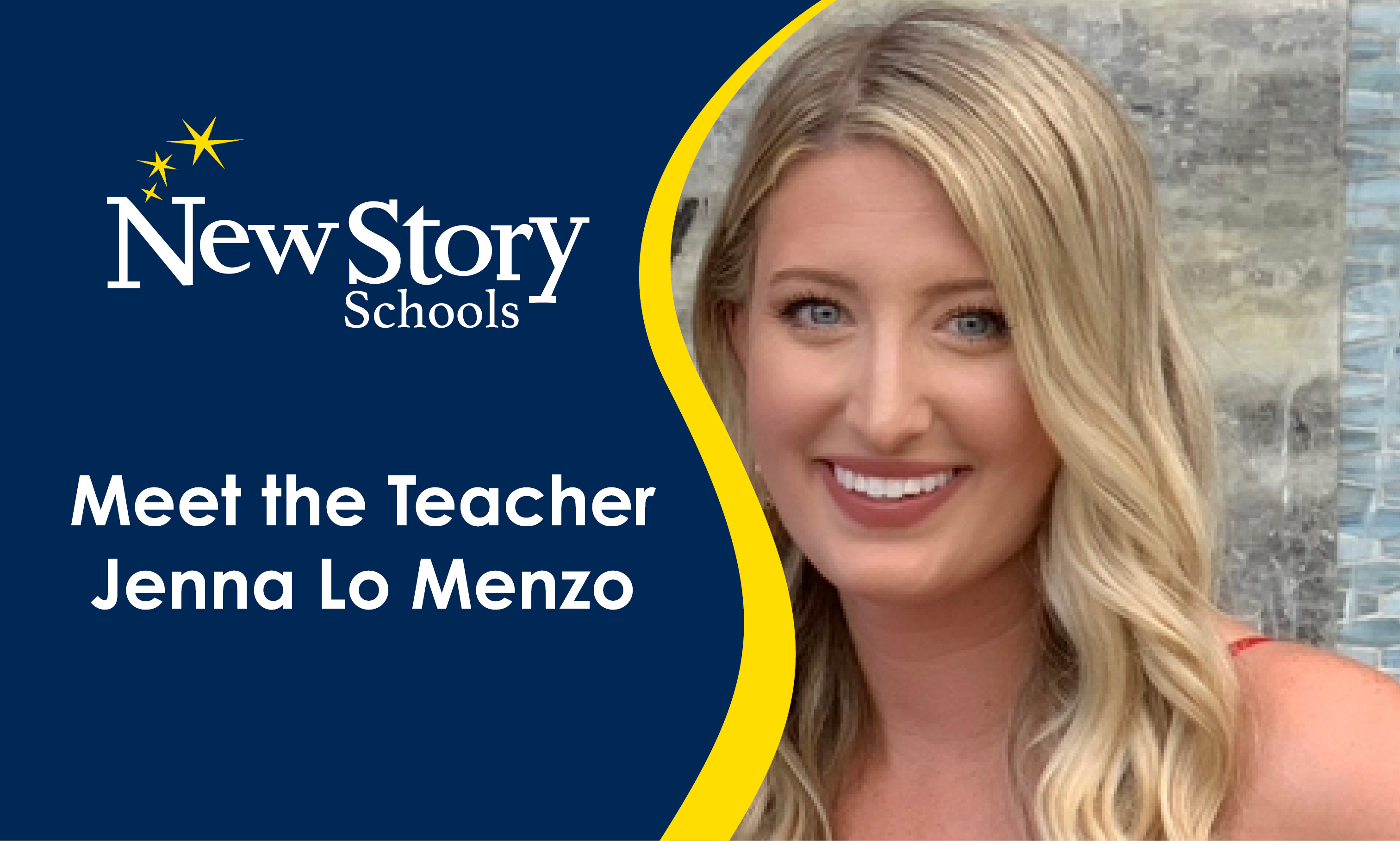 It's Back to School season at New Story Schools! We're inviting you to get a glimpse into the lives of some of our incredible team members who are heading back into the classroom and school building to support our students throughout the 2023-2024 school year. Thank you to all our amazing team members who make an incredible impact on the lives of our students each and every day!
Team member: Jenna Lo Menzo
Title: Middle School Autistic Support Special Education Teacher
Campus: Lancaster, PA 
Q: Can you tell me a little bit about your family? I just got married in May. It's me, my husband and our very beloved fur baby. He is a mini goldendoodle named Chase. He's used a lot in my classroom, so my students know all about him. Currently, we live in Lancaster county. I am actually from New Jersey, so living in Pennsylvania is new to me. I have family all over the place like Charlotte, New York, and Florida.  
Q: Do you have any hobbies? I coach cheerleading on Sundays for World Cup Miracles. They are the first- ever fully disabled cheer squad. Every single girl on the team has some sort of disability. We even have some in wheelchairs or crutches. They are actually competing in Orlando for the World Cup. It's really exciting to see sports finally branching out and doing some more inclusive stuff. I also dance, go to the gym, and I love reading.  
Q: What was your favorite subject in school? My favorite subject is actually what I teach, which is English and Language Arts. I was a total book nerd and I loved English, writing, and social studies.  
Q: What is your favorite thing about your job? I love the kids here. I've had them for almost five years now and they are the best. Watching the kids grow, mature, and be more responsible to meet their goals is why I come in. I would also say I am fortunate to have the same group of staff for the past 2 years and they are so helpful. They make coming to work a lot easier.  
Q: What are you most excited about for back to school? We are doing a couple of big events this year between our two classrooms in the middle school. We will be doing a science convention and a wax museum. The students are going to come dressed as one of their impactors that they picked to research. We are also going to do an international food fair again! 
Q: Can you tell me about an achievement that you have seen from your position?  I have had a lot of kids transfer back to district that were in my room. I'm pretty successful with getting the students back to their school district and having them master their goals and behaviors. I think since I've had them for so many years, I've been able to dive deep and keep them consistent with their goals, routines, and expectations.  
Q: Do you have any future goals? I am a little torn between getting my Master's to be a reading specialist or to become a school counselor. The latter would be leaving the teaching realm, so I am leaning more towards becoming a reading specialist.  
Q: Tell me a surprising fun fact or something that no one knows about you. I have been to Norway every summer since I was six months old. I have a lot of family there, so I used to go there every summer. I've also danced for the Philadelphia Phillies and 76ers a couple of times. I also tried out for the Eagles cheer squad like four times.  
Want to be notified of new articles and resources from New Story Schools? Click here to submit your email and opt into our newsletter.