Blog
Meet the Teacher: Andrew Edwards
Posted: September 01, 2023 | Written By: Sharmin Hossain | Category: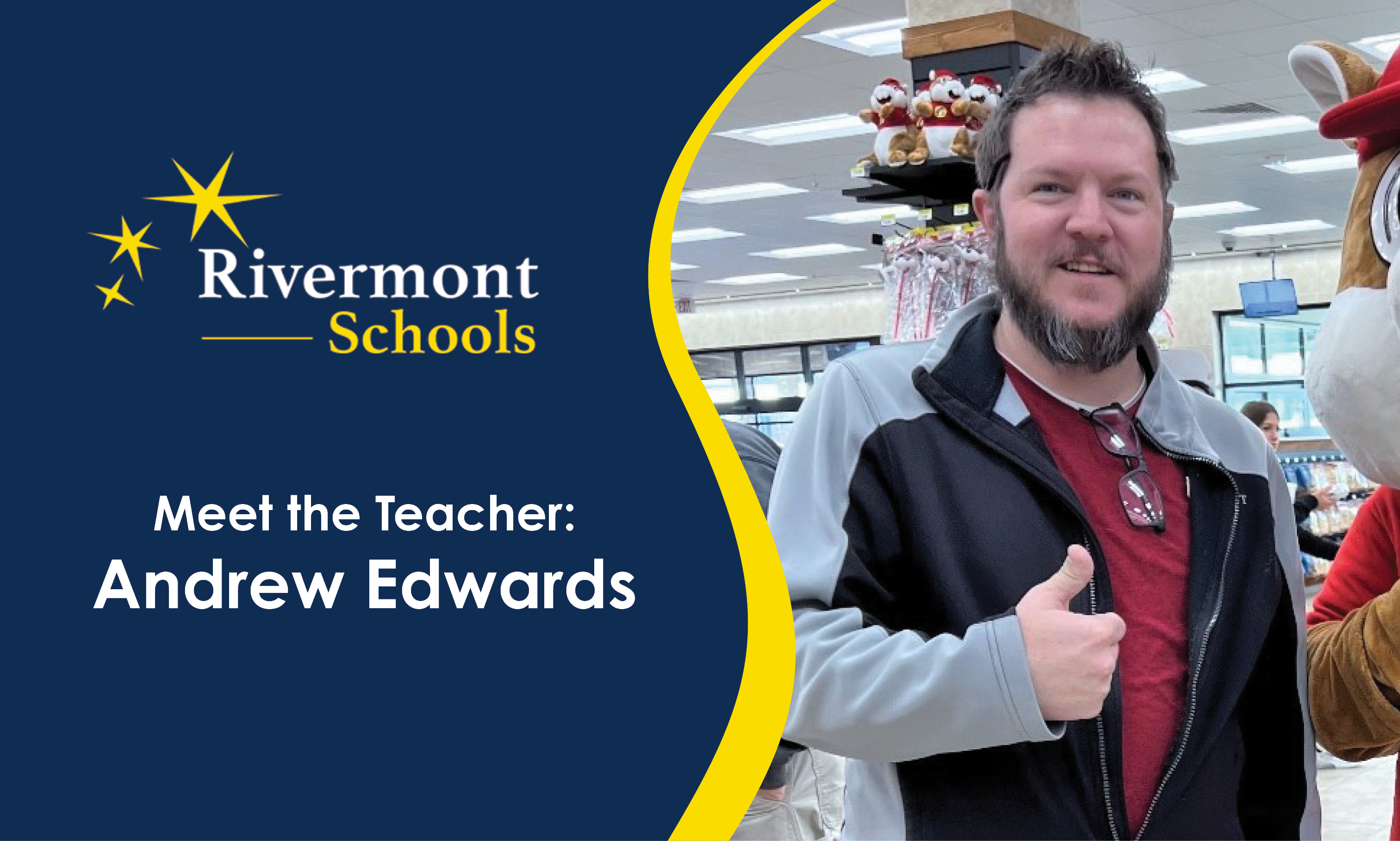 It is Back-to-School season at Rivermont Schools! We are inviting you to take a closer look into the lives of some of our remarkable team members who are ready to head back into the classroom to support our students throughout the 2023 – 2024 school year. Thank you to all our amazing staff who shape our students' lives every day! 
Team member: Andrew Edwards  
Title: Middle School Special Education Teacher    
Campus: Lynchburg South, Virginia   
Q: Do you have any hobbies? 
My dad recently moved here, so we spend a lot of time together. We love to fish and golf together. But my #1 hobby is being a "daughters daddy." I am a gymnastics dad, dance dad, and makeup model. Spending time with my family is my priority. I am also very active at our church.  
In my free time, I also like to play video games and watch Marvel movies. In fact, my hobbies have helped me at my job. I remember buying an Iron Man Lego toy and it was sitting on my desk. There was this student that I had not been able to create a good relationship with and he would barely talk to me. One day, he comes up to me and says, "Do you like Iron Man?" This is how I was able to break through with him. So, I started collecting more Iron Man merchandise so that my students could become more comfortable talking to me. It really means a lot to them to see that I care about the same things that they do. It becomes a way for me to enjoy my hobbies, but also bring them into the classroom.  
Q: What was your favorite subject in school? 
The funny thing is I was a terrible student in high school. I was diagnosed with ADHD and struggled with that through middle and high school. In high school, I would have said my favorite subjects were lunch, P.E., and dismissal. As I got older, I loved teaching Kindergarten. I loved the whole journey of helping the young ones discover their personality and the basics of education. As I have gone deeper in my career, I really started to love learning and teaching Math and Civics.  
Q: What is your favorite thing about your job? 
The community we have built is my favorite thing about my job. We have a very veteran group at Lynchburg South. Most of the teachers have been here for more than 10 years and I am very close with them. It is very important to have a support network at a very difficult job where we can make each other laugh, but also help each other through hard situations. It makes a difference knowing that you are with a trusting community.  
Q: What are you most excited about for this school year? 
I have been teaching for 20 years and I still have trouble sleeping before the first day of school because I get so excited! My life runs so much better during the school year because I have a more organized schedule and can get into a routine.  
Q: What are your future goals? 
In the future, I would love to either consult with people on how to build relationships with the toughest students or hold a classroom management seminar. I love storytelling so it would also be cool to write a memoir about my experiences because you don't have to be the smartest or best-looking guy in the room. All you need is to show your students that you care. They know when you are faking it and just here for a paycheck. I just want to share what I learned with others.  
Q: What is one of your favorite accomplishments in this role? 
I feel a sense of accomplishment when I can make a student like me. You must put in the time and be consistent to see a change. I had a student last year that we have had for a long time. It was very clear that he did not like me. He also hated Math, which was the class that I taught him. For years, I had been putting in the effort and time to forge a relationship with him. When he finally got to my homeroom class, one of the counselors was walking him in and asked him, "Do you think you like Mr. Edwards now?" And, the student says, "Yeah, he's pretty cool." We have had this student since the 2nd grade and he transitioned back to high school this year, in large part because of the amount of time and care his teachers put into helping him and his future.  
Q: Tell me a fun fact about yourself! 
I taught myself how to juggle a golf ball with a golf club just as good as Tiger Woods! 
Want to be notified of new articles and resources from New Story Schools? Click here to submit your email and opt into our newsletter.