Blog
Day in the Life of Savannah, A New Story Schools Student
Posted: April 12, 2023 | Written By: Drew Delligatti | Category: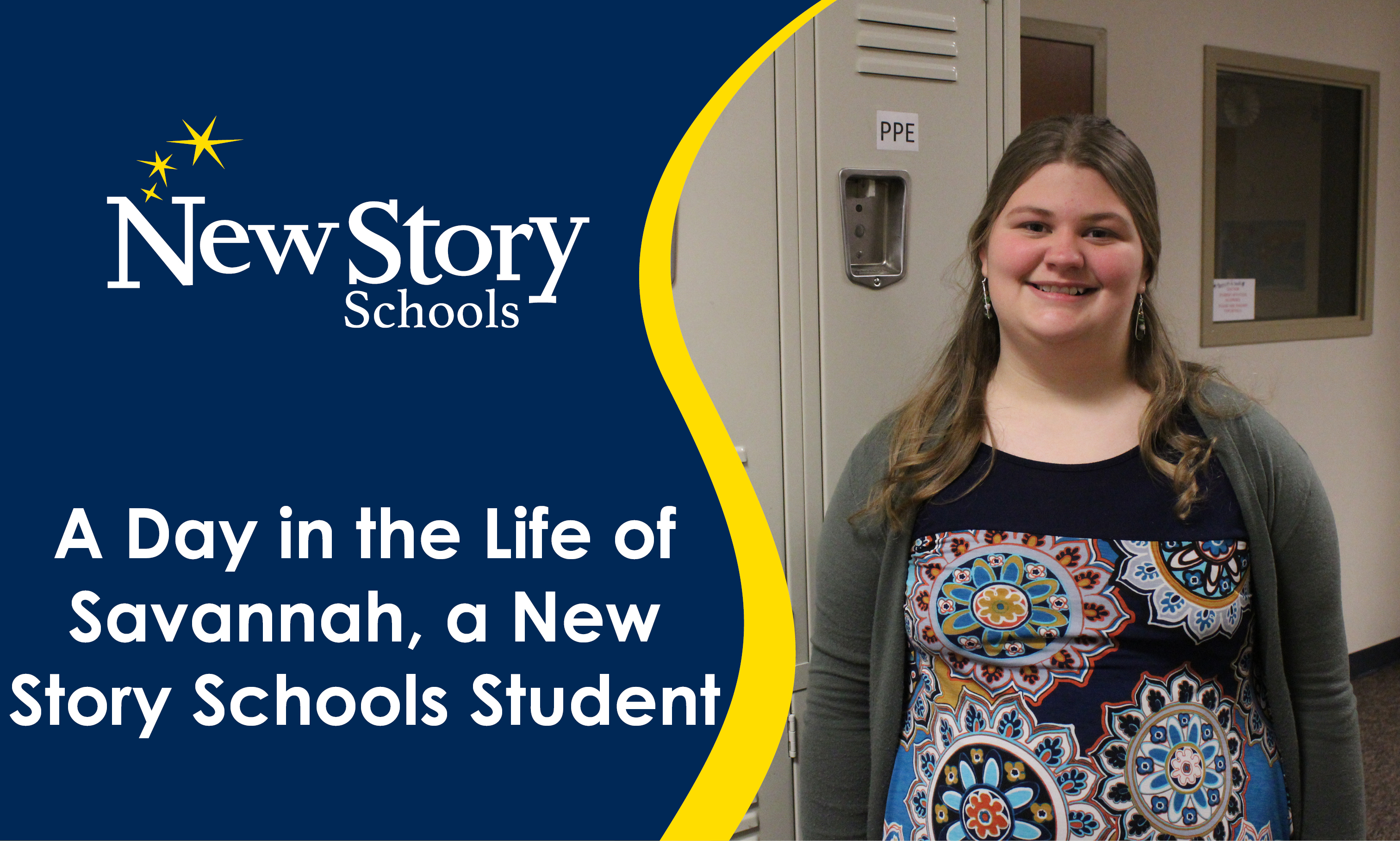 This article is written by Katie Fitzgerald, Senior Director of Marketing and Communications, after a visit with Savannah, a student at New Story Schools' Lancaster, PA campus.
Savannah is a 14 (going on 15) year-old at New Story School's Lancaster, PA campus. When I arrived at the school shortly after 9 a.m., Savannah was in the midst of making the rounds handing out breakfast to students in other classrooms. Part of her duties that morning included teaching her peer how to run the breakfast cart, including knocking on the door, making sure the teacher was aware they were there, announcing breakfast, and ensuring students got what they needed.
As we headed back to the classroom, Savannah told me more about how she's the youngest of three, with one brother and one sister. She is incredibly creative, spending her time making art, with a focus on drawing and painting. She also loves to express herself through her fashion, where she's able to share her mood and inspirations by putting together colorful and delightful outfits.
Back in the classroom, another student heads to the front of the classroom and encourages students to share their 'compliments, comments, and complaints.' Students shout out things like excitement around an upcoming weekend trip to Philadelphia, and spring break plans. Ms. Diana, Special Education Teacher, and Mr. Morris, Academic Behavior Support Staff, then move into a lesson where students work through tools and tips for budgeting. The class discusses how frequently one can expect to be paid when they have a job, how much is taken out of a paycheck for taxes, and works through the math on budgeting for rent, utilities, bills, and other spending against take home pay. Ms. Diana weaves in real-world examples throughout the lesson, as students practice budgeting for their post high school lives.
Savannah later took me on a tour of the building, where each staff member we passed gave Savannah a wave and complimented her earrings and outfit she wore for the day. Our first stop was the life skills room, where students learn critical life skills in a classroom set up to look like an apartment, equipped with a bed, refrigerator, and kitchen. We swung by the sensory room, a welcoming space with soft lighting and objects, and then she showed me her locker.
While I peppered Savannah with questions, she was quick to turn the conversation back to me, asking what I liked to do, what I did on the weekends, where I lived, and who I lived with. As we closed out our tour and visit, I was struck by how much the Lancaster campus feels like a tight-knit community, where students are encouraged to express themselves while gaining real-world skills, teachers and staff take joy in supporting student learning, and students feel safe to share their excitement, fears, and ideas.
Want to be notified of new articles and resources from New Story Schools? Click here to submit your email and opt into our newsletter.