Blog
A Day in the Life of a BCaBA
Posted: December 01, 2022 | Written By: Lauren Douglas | Category: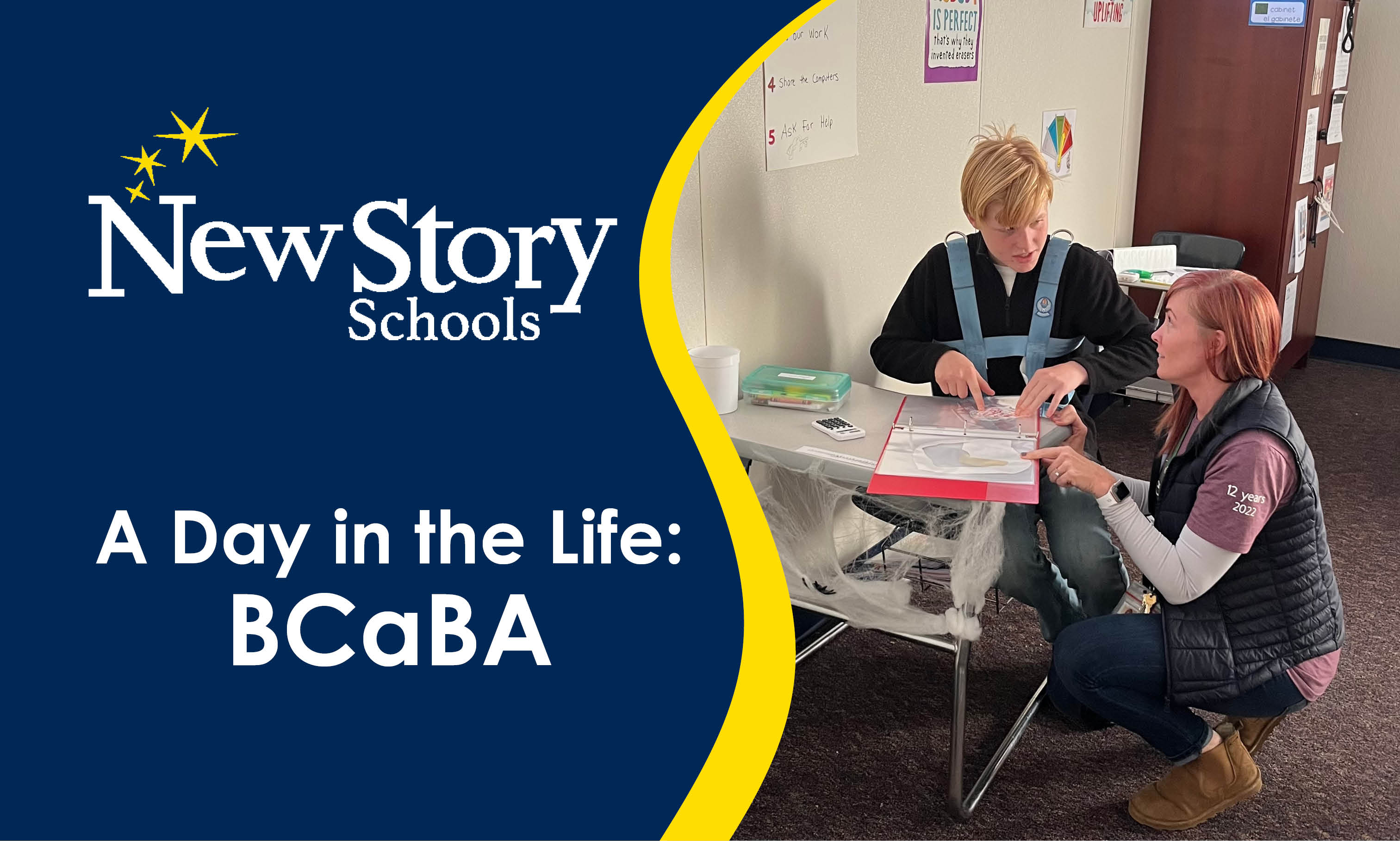 Melissa Cooper is a BCaBA at the Wyomissing Blvd campus in Reading, PA. 
Q: How did you arrive at working at NSS? 
This is my 13th school year with New Story Schools. I've worked with kids with diagnoses for a long time. When I was younger, I'd always go out to learning support classrooms to interact with and play with the kids. I fell in love with the special education world early. 
One of my friends introduced me to New Story Schools. I fell in love with ABA and figuring out behaviors and what makes kids tick.  
Q: What is a typical day at New Story Schools for you? 
No day is "typical" in our school!  
I usually start my day here first thing in the morning and figure out what staffing and students in the building look like. I send out a morning email to our staff to let them know what the building looks like – what students are out, what staff members are out, and where we might need extra help. I try to add some dad jokes in for humor! I go out to the bus entrance and keep track of the students that come in to help assess what staff we need and where.  
Recently our building has been very active so I spend a lot of my mornings getting into classrooms to see what's going on and how the students are doing. We've had a lot of new students come in so I've been checking referral lists, and seeing how many students are in each classroom to ensure they have the needed staff.  
I run IEP meetings, tours for new students, and spend time in classrooms helping with kids and behaviors.  
Q: What do you find most valuable about working at New Story Schools? 
I've been here for a really long time. I think what I've gained from working here is a different perspective on how kids work. Before I worked here, if I saw a child having a behavioral issue in public, I'd shy away from it. After working with so many students over the years, I've found that I have a ridiculous amount of patience, even for my own kids. I'm also proud to be able to give my kids better understanding of, empathy for, and acceptance of kids that might be different from them. 
Another very rewarding part of my job is seeing the kids grow. I had a student that graduated recently that used to spend hours a day in a behavior episode. Now he's got a drivers license and a job in our community. This student comes back to visit often. Seeing the difference the work we do makes in the lives of our students makes all of it worthwhile. 
Q: What do you find is unique for your campus that you are particularly proud of? 
We have a really good transition program here at the Wyomissing Blvd campus. We've had a lot of students work outside of the building and then been offered permanent jobs in the community. We have a simulated apartment, workshop and office, so students are learning these important life skills every day. It has been very beneficial for them when transitioning out of the school environment. We have a great transition coordinator who takes the students into the community and ensures they have the experience they need to succeed. 
The staff in our building hasn't had a lot of turnover – we are truly like a family here. When there is any sort of behavior or issue, there is always someone to back you up. We all know all of the students – not just the assigned students for the day. The staff and students feel comfortable relying on each other throughout the day. 
Want to be notified of new articles and resources from New Story Schools? Click here to submit your email and opt into our newsletter.