Blog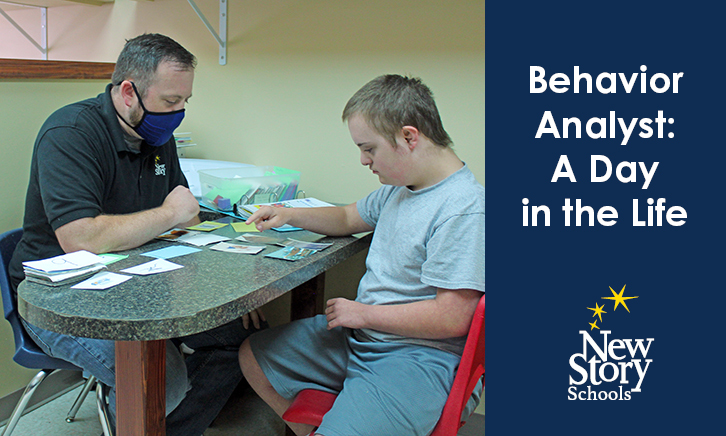 Did you have a Mr. Camfield? He was that teacher of mine that always had the ability to make his students feel understood. I hope everyone had a teacher like that.
I never set out to become a Mr. Camfield – I am not even a teacher. I am a Behavior Analyst at New Story Schools. We serve students on the autism spectrum and with emotional support needs. I help our students and staff understand the cause (antecedent) and function (outcome) of behaviors. We work together to identify alternative behaviors and strategies that allow our students to more readily participate in their communities.
My day starts early – I have a long drive in. I'd like to say I spend that time thinking deep thoughts, but I usually listen to music. I arrive and head to the cafeteria. It's where they keep the coffee, so it will always be my first stop. In fact, I will be here many times throughout the day, because that first cup gets forgotten until it is cold. The second and third may as well.
My office is upstairs, where I first check in with the other Behavior Analysts before going downstairs for opening. Our small school fills up fast, and I greet the students and help everyone get settled.
As the day unfolds, I visit my classrooms. My students range in age from 10 to 21. Regardless of age, ability, or program, I am here to observe and make sure we're delivering on our promise to help every student write a new story for themselves, one of success.
Sometimes I can move into a classroom unnoticed and really see how each student is doing day-to-day. Other times, I am called in to observe something teachers or our support staff are specifically concerned about and help develop a plan. When new students join, as they do throughout the year, I observe a lot and collect a lot of data to pull together a Positive Behavior Assessment and a plan.
New or old, our students are a lot like any other middle or high school student. Sometimes they are just too cool to be here. Sometimes they carry in silent struggles on Day 1 that we hope to help them shed. I observe and work with their team to see how we can help them.
My day is a blur of cold coffee cups, data sheets, copious notes, observations, and lending a hand to help resolve a few situations that arise. I barely sit still, but suddenly the day is winding down. I have sheets of notes, and tons of ideas to share with my team. This is the exciting part of being a Behavior Analyst – one part data, one part creativity. Everyone here at New Story is always open to finding new solutions for our students – they are all unique, so we must adapt to what will best help each one.
The good news is that, even though the day is almost over, the best part is yet to come, the part that gets me so excited that it helped me become the Mr. Camfield at our school – school store time. We run a token economy (you can learn more about that by reading this blog), so at the end of the day students who have earned enough rewards can cash them in. I make sure to always be in the hall for this so I can watch that kid who was too cool to be here a month ago beam at with me with excitement over a bag of chips or the toy car he selected as his reward.
These kids come so far while they are with us, so I don't have to pretend to be just as excited as they are to see them succeed. Even better, they cannot wait to tell me, to let me share in this victory with them. There is just nothing better in the world than that feeling!
As the kids leave, I see them out and then begin translating all of those notes and data into plans and actions. I throw away my third cup of cold coffee and head for the door and my long drive home.
Being a Behavior Analyst at New Story Schools isn't an easy job, but I like to say I have the most fun job in the building. It is certainly one I am passionate about, and I hope that many students go on to remember me as their Mr. Camfield.
Are you interested in joining New Story Schools as a Behavior Analyst? Take a look at our openings here: Behavior Analyst openings.
Want to be notified of new articles and resources from New Story Schools? Click here to submit your email and opt into our newsletter.