Blog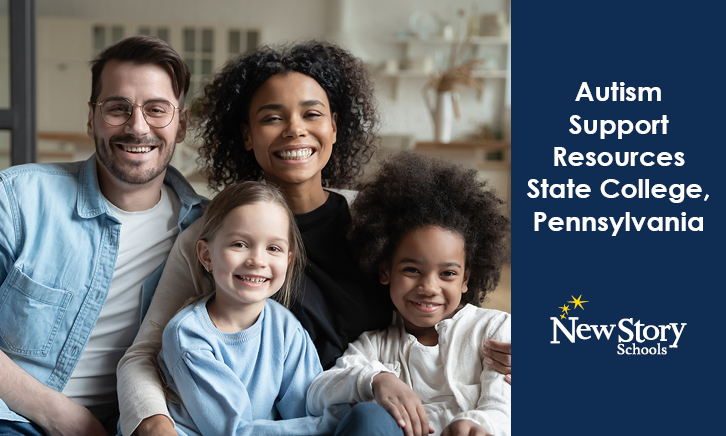 New Story Schools prides itself on being a part of the vast and vibrant special education community in the areas that we serve. However, we know that, for most families, the need for services and support rarely ends with the school day. Luckily, most areas offer a lot of additional services for autism support.
For our families in State College, Pennsylvania, here are just a few ideas for resources.
Community Resources:
ASERT, which stands for Autism Services, Education, Resources and Training, is a "partnership of medical centers, centers of autism research and services, universities and other providers involved in the treatment and care of individuals of all ages with autism and their families." Visit https://paautism.org/ to learn more.
ACRES Project (Adults Creating Residential and Employment Solutions) works to help adults with autism build a foundation for a productive, independent life by fostering social, vocational, and self-advocacy skills. Visit https://acresproject.org/ to learn more.
Arc of Centre County is a division The Arc, which is an advocacy and service provider organization dedicated to improving the lives of persons with an intellectual disability. Visit https://autismnow.org/local/arc-of-centre-county/ to learn more.
PaTTAN provides a full array of professional development and technical assistance targeted to improving student results. Visit https://www.pattan.net/ to learn more.
Easter Seals Central PA is a division of Easter Seals, which works to ensure that people with disabilities or other special needs and their families have equal opportunities to live, learn, work and play in their communities. Visit https://www.easterseals.com/wcpenna/connect-locally/service-center-locations/easterseals-western-and-central-pennsylvania-state-college.html to learn more.
Fundraisers and Events:
Acres Project Halloween Hustle
Sunday, October 31
241 South Fraser Street – State College, PA
Learn more: https://runsignup.com
Please note that New Story Schools is not affiliated with, nor do we endorse, these services, but simply provide this as a research resource.
Want to be notified of new articles and resources from New Story Schools? Click here to submit your email and opt into our newsletter.