Blog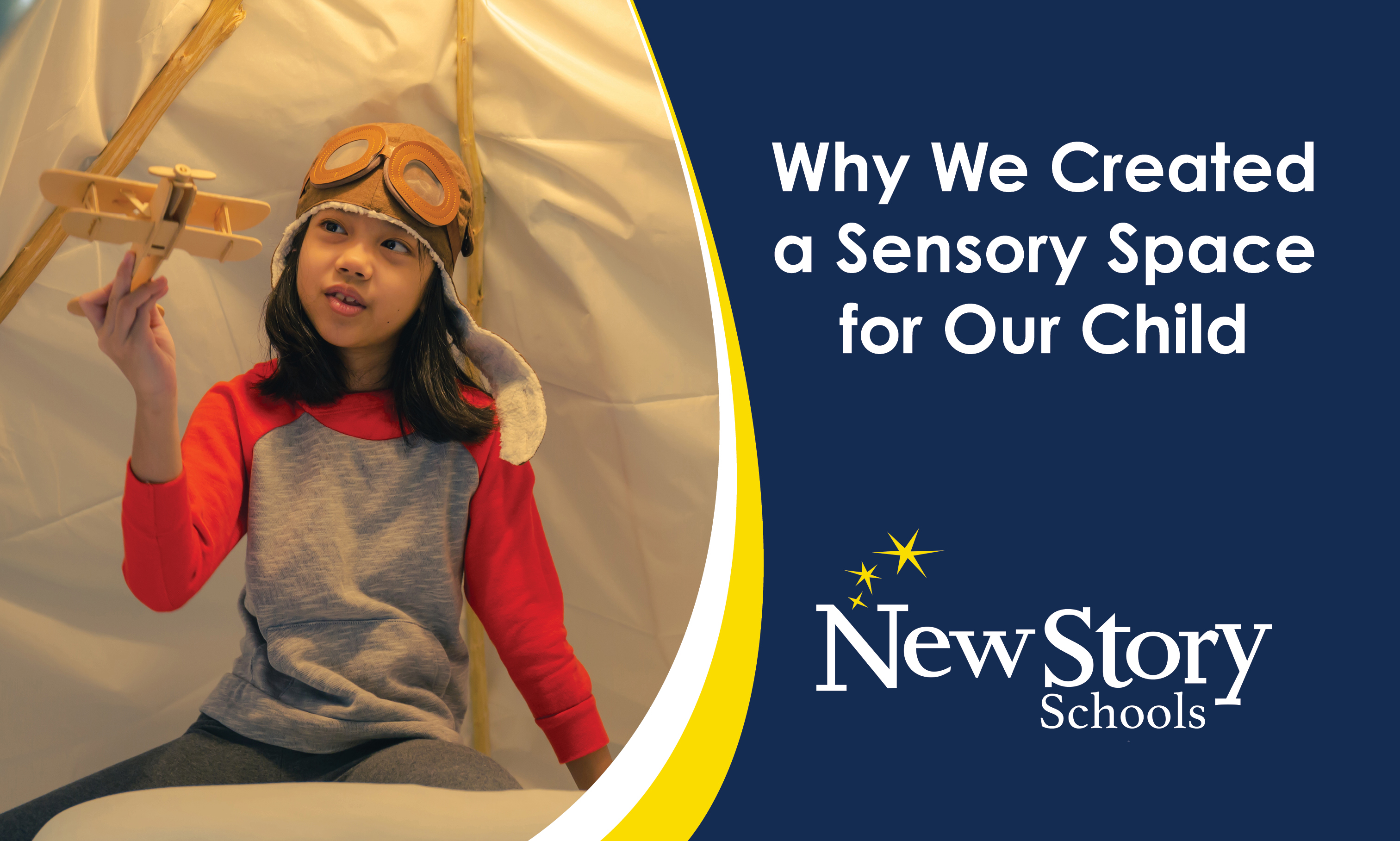 Dr. Kathryn Weaver is the Special Education Director for New Story Schools in New Cumberland. She spoke with us about the sensory space in her home and a little bit about her process of creating a sensory space for her son.
A Place to Decompress
My husband and I have four children. Our youngest son, now 13, was diagnosed with high functioning autism at the age of 2. We knew from an early age that he struggled with sensory needs. Loud noises and sounds, bright lights, and fabrics and textures affected him. He preferred to be in rooms with dim lighting, white noise or music, and preferred things that offered pressure.
A dedicated sensory space at home allows children to be able to regulate what and how they are feeling, decompress, seek the sensory input they are searching for, and gives them a space to call their own. It is important to remember that every child will have different needs. We wanted to give our son a place to decompress, get the sensory input he needed and feel comfortable in a space that was dedicated to him. That is why we chose to put a sensory space in our home.
Trial and Error
We started working with a team of professionals, including a speech language pathologist, occupational therapist, and behavior consultant, to try out options that would best meet his needs. There was a lot of trial and error to get his set up right—I tell parents who are creating sensory spaces at home for the first time to remember that a sensory room is a process that takes time! Your child may take time to warm to the presence of a sensory space, and the space itself will continually evolve. Talk to your child's team either at school or at their doctors' offices and see what they suggest. My colleague Pat O'Reilly-Philippen wrote a helpful article recently about how to create your own sensory room, so be sure to check it out!
As a family, we chose to create the space directly within our son's room so he knew that it would be a space just for him. The space has options for lights, sounds, and items based upon his needs. The items within his space have gradually changed as he has grown over the years.
When my son stops using something, or expresses dissatisfaction in part of the set-up, or when it just seems like it's time for a refresh, I get back to researching. In addition to looking for articles and ideas online, I talk to a lot of the professionals within the field, my friends, family, and of course my husband and son. We want to include him in decision making about his space. Remember: the best sensory item for a child with autism is the one that suits their individual needs. It will be different for each child. Expect them to grow out of their favorites just like they grow out of their clothes.
Shop Smart
As a teenager, now, his sensory space includes the following: a carpeted area, dimmable overhead lighting, ceiling fan to allow for airflow as needed, a weighted blanket, music, various fidget spinners and cubes, Legos, sensory putty, miniature brain teaser puzzles, and puzzle boxes. I get all these items from stores in our area like Dollar Tree, Target, Walmart and Ollie's Outlet.
I look to the stores in my community to see what I can find and repurpose. I love boxes with lids that fit together so they can be easily stacked or shelved. Especially when he was younger, I put all kinds of low-cost options in those boxes, like feathers, dried beans, or kinetic sand in different colors. Consider other items your child might be drawn to—textures like velcro, sponges or silky ribbons, or fidget items like pencils with a metal washer glued to the end.
Do It Yourself!
For anyone out there trying to figure out where to start with a sensory space, remember that there is a lot of trial and error involved. Ask questions. Try things out. Talk to your family and your child about what could work. And have fun with it!
Want to be notified of new articles and resources from New Story Schools? Click here to submit your email and opt into our newsletter.