Blog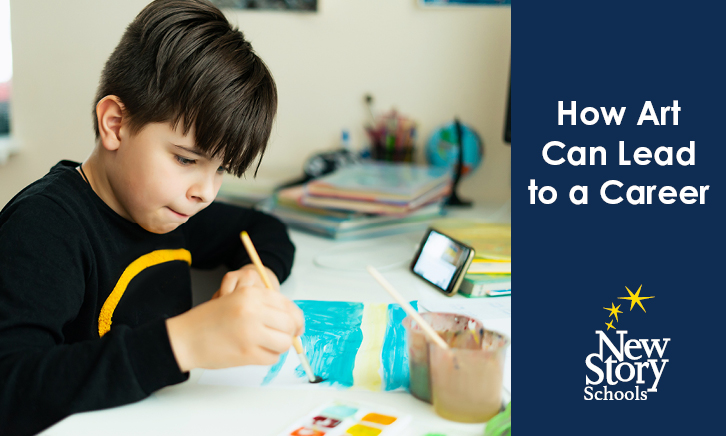 In a time when the arts are taking a back seat in education, New Story Schools is putting visual arts in the driver's seat. One particular program at New Story Schools' DuBois location offers a creative outlet for students, making a positive impact with lessons that reach far beyond the classroom. 
As the art teacher at New Story Schools DuBois, I have seen first-hand this positive impact we were hoping to have. Whether we are working with cut paper to make a Matisse style piece of artwork or learning to weave on cardboard looms, the students are learning lessons that will serve them well after they graduate school. 
Art Teaches Kids 
In each class, every student gets the same instructions for a lesson, but every piece of art turns out different. The students get to see first-hand that everyone has a different perspective, and they learn to embrace that diversity and show off their creativity. 
Art teaches children to observe details that otherwise might be overlooked. When teaching children to paint, I point out the details of shadows and texture so their work can come alive. Who doesn't want a detail-oriented employee? 
Art teaches children the value of perseverance. I have had several students say with a huge smile, "At the beginning I really didn't think I could make this, but look, I did it!" 
Art teaches children decision-making skills. Making decisions can be hard for adults, and for a child, they can be a monumental task because most decisions are made for them and they have not had much opportunity to practice. 
At the beginning of the year, most students are terrified to make a mistake and because of this they take a very long time to make a decision on how to proceed with a project. After several classes, they don't worry too much about making mistakes, because as they improve and see their own progress their self-esteem grows. Art teaches children to learn from their mistakes and become problem-solvers.  
Art can help tune fine motor skills. Whether it be a pencil, piece of chalk, crayon or paintbrush, they all contribute to an increase of fine motor skills and hand-eye coordination. 
Art Can Be Therapeutic 
Creating something out of nothing can give you the feeling of accomplishment, it can take your mind off your problems, it can soothe your nerves and make you feel at peace. 
The beauty of art is that it can happen anywhere, anytime. Yes, it can happen in a classroom, but it can also happen at Grandma's kitchen table, the living room floor, the backseat of the car, or Uncle Ed's garage. That means that teaching your children all of these lifelong lessons is as easy as sitting down with a box of crayons and letting them explore their own creativity. 
Students Use Projects for Fundraising 
At New Story Schools, we like to give back to the community. Starting in late October, the art classes at New Story Schools DuBois begin to create crafts and works of art for an annual Holiday Art and Craft Fair. The students get to learn new skills and create beautiful pieces of original artwork to be sold at the fair. Money raised goes toward school field trips, and the rest is donated to organizations. 
Art Can Lead to a Career   
Art doesn't have to be just a weekend hobby. There are many different careers in art. You might think of an obvious one like being an art teacher, but there are so many more. There are sign painters, home decorators, architects, makeup artists, cartoonists, video game designers, art curators, art historians, graphic designers, book illustrators, medical illustrators, fashion design, and more. The list is endless. Art is everywhere, and artistic talent is needed in many jobs. If you see your child enjoys art and has a particular artistic talent, try to support and encourage them. People who have found jobs they enjoy and are fulfilled by them are happy people. 
Want to be notified of new articles and resources from New Story Schools? Click here to submit your email and opt into our newsletter.