Blog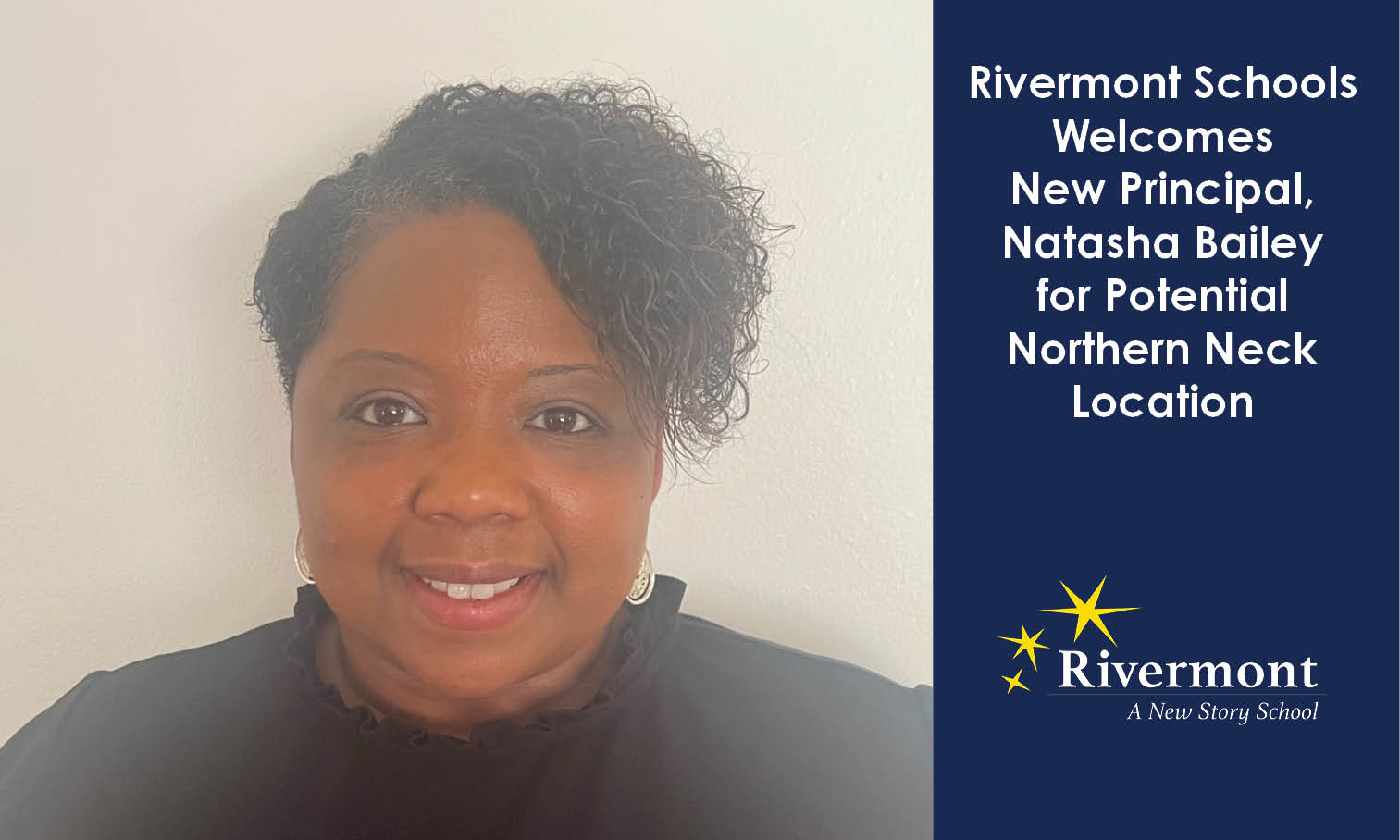 Rivermont, A New Story School is excited to introduce you to our new principal, Natasha Bailey. Natasha will be principal of our potential new Northern Neck location and we are so excited to have her.
Natasha has more than 20 years of special education experience and is passionate about working in this field. We know that she will make a great principal.
Read more about her here:
Q: What is your work history prior to Rivermont, A New Story School?
Before joining Rivermont schools, I worked for the following counties in the role of a special education teacher: Mark Twain Center, Fairfax County, VA; Stowers Elementary School, Ft. Benning, GA; Baker Middle School, Muscogee County Public Schools, Columbus, GA; and Thornburg Middle School, Spotsylvania County Public Schools. In each of these school districts, I collaborated with internal and external school stakeholders through meetings to address individualized educational plans for the students on my caseload. When I returned to Spotsylvania County in 2005, my home town, I also worked in the roles of Admin Intern, Special Education Department Chair, Child Study Chair, and Private Day/Residential Case Manager.
Because I worked in a variety of school districts and roles, I understand the needs of students coming from different socio-economic backgrounds. I understand the significance of collaborating with wrap-around services in the community, and providing resources to the families in which I would support daily in the school setting. As a former Private Day/Residential Case Manager, I understand the needs of the public day school and how necessary private day school is needed in some cases. I understand how the lengthy transportation route can impact the start of the school day for a student with a disability, so opening a private day school in the community is critical, and the Northern Neck area has fought to make this happen. As principal, I want Rivermont to be the private day school to meet these needs of the community.
Q: What is your educational background?
I received my bachelor's degree in English at Virginia Commonwealth University in 1998. I went on to receive a master's degree in Teaching (Special Education) at the same university and finished in 1999. I also have a post-graduate degree in Administration and Supervision from University of Mary Washington which was received in 2011.
Q: What do you love most about working in special education?
I love working with all students, but I believe my love of working with students with special needs came from hearing a story from my mother, who at the time was working in the school system as a paraprofessional.  I heard stories of how, at that time, students with special needs did not attend proms due to the amount of students attending and the loud music. Well, I was able to see with my own eyes how the special education department created an annual Spring Fling for all students with disabilities, so they could make some magical memories too. Not only that, but to hear how my mother would have to support a student who experienced seizures on a weekly basis, I too wanted to support students who were disabled. I wanted to see them succeed not only academically, but socially and emotionally. I love that when the parent, student, and educational stakeholders work together, the disability doesn't hold the student back. 
Q: Why are you excited to join New Story Schools?
To be honest, I didn't know much about New Story Schools prior to becoming a principal in the organization. I only knew of Rivermont Schools because I used to place students with special needs in the Rivermont Schools (Fredericksburg and NOVA) before they joined with New Story Schools. The staff at the Rivermont Schools truly raised the bar during COVID by supplying electronic devices, paper packets, food, and more to the families who needed more than just academic supports. Rivermont Schools also supported bringing the students back into their own community when the students met all of the requirements expected of them. Because New Story Schools brought Rivermont under their umbrella of schools, I know that New Story Schools has to love supporting students as well.  I know this now as a new principal in the company by how every administrator, teacher, and staff are supported. I have never received this amount of support before. If the leaders of this company can provide me with the amount of support that I am receiving, I know that I, too, must provide the same level of support to my teachers, staff, students, and parents.
Q: What benefits do you foresee the Northern Neck school bringing to that region?
I believe there will be many benefits to bringing a Rivermont School to the Northern Neck Region such as:
This region will finally have a private day school that can support the needs of students who fall in a variety of disability categories.

Because I was a Private Day/Residential Case Manager for a public school system prior to this position as principal, I understand the "why" in regard to returning students back to their community when they have shown the required amount of progress. 

Having an ABA Clinic supporting students with Autism after school hours will also bring the community together as well. 

Students will receive instruction in a classroom setting with no more than 10 students, one teacher, and a Mental Health Associate. Therefore, students will receive more support in the classroom setting.

Students who live in the surrounding counties and require this level of support, will have shorter commutes to school if they were attending other private day schools located in another region.

Rivermont also provides a multi-tiered system of supports using proactive and data-driven strategies and interventions.

Rivermont believes in supporting students during post-secondary transition to ensure a smooth transition into adulthood.

Students who meet the criteria of an extended school year program will be able to be supported so skills do not regress over the course of the summer.
Want to be notified of new articles and resources from New Story Schools? Click here to submit your email and opt into our newsletter.