Blog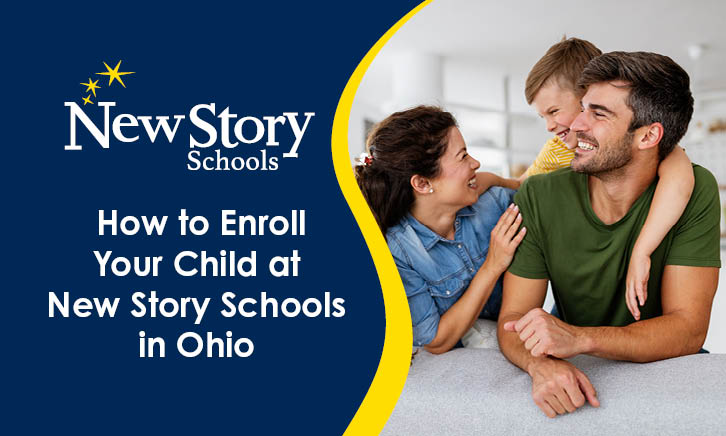 New Story Schools supports children and young adult students ages 5-21 in grades kindergarten through 12 experiencing social, emotional, educational, and behavioral challenges. New Story Schools partners with families and school districts to meet the needs of students in a safe learning environment.
Throughout Ohio, New Story Schools offers authentic learning environments, small class sizes, and individualized learning plans focused on empowerment, skill-building, and academics. Our multi-disciplinary teams of educators, behavior analysts, therapists, and support staff apply evidence-based strategies to promote growth and development, in support of students' personal goals.
There are two ways that a student can attend New Story Schools in Ohio. If you are a parent or guardian, you can enroll your student directly through the Ohio Autism Scholarship program. Alternatively, if your public school district has a contract with a New Story School, you can work directly with your school to enroll your student into a New Story School.
New Story Schools accepts students on a rolling basis. You can begin this process at any time during the school year or summer. Below is a roadmap of how to enroll using the scholarship option.
Step 1: Attend a school tour by visiting the Contact Us page on the New Story Schools website and requesting a tour. You'll be able to meet our passionate and qualified staff! Commit to beginning the enrollment process.
Step 2, Option A: Apply for the Autism Scholarship by providing all necessary documents to the school office in Columbus and give our school office permission to submit the application on your behalf.
Step 2, Option B: Follow the instructions of the Autism Scholarship Program's "How to Apply" page on the Ohio Department of Education's website. https://education.ohio.gov/Topics/Other-Resources/Scholarships/Autism-Scholarship-Program/Autism-Scholarship-Program-How-to-Apply
Step 3: Provide all necessary documents to complete an enrolment packet including: Proof of residency; Proof of Autism Diagnosis; Individualized Education Plan (IEP); and Evaluation Team Review (ETR) that identifies "Autism" as the disability category.
Step 4: Receive a start date and start your new story at New Story Schools!
Interested in getting started or scheduling a tour at a school campus near you? Visit https://newstoryschools.com/locations-overview/ohio for more information about a school near you, and visit our Contact Us page to request a tour.
Want to be notified of new articles and resources from New Story Schools? Click here to submit your email and opt into our newsletter.