Blog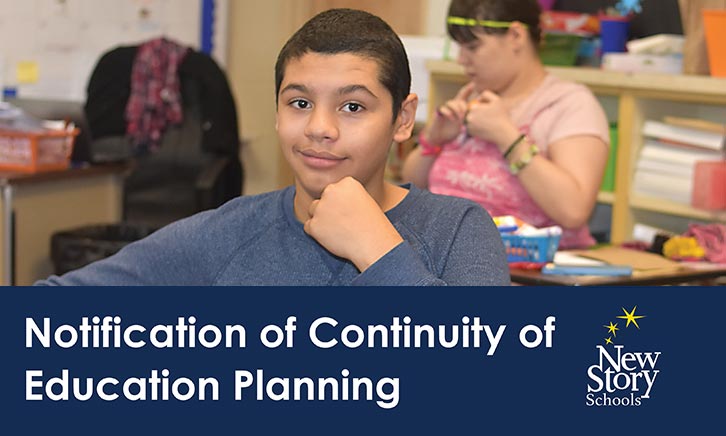 Understanding the crucial need to support our students, families and partnering districts, New Story Schools and Green Tree School has developed a Continuity of Education Plan. This plan addresses how we will continue to deliver valuable academic instruction to students in alignment with school district requests.
To date in Pennsylvania, school districts are permitted to select whether they will pursue or abstain from delivering continuity of education during the current pandemic-related closures. Districts who abstain from continuity of education may still request we supply activities or materials to students; however, these activities are not to be standards based or graded for credit. These districts may request activities/materials be supplied by New Story Schools/GTS. As a result, New Story Schools/GTS has developed a plan to meet state requirements for continuity of education and receipt of graded credit as well as methods for providing non-graded activities or materials as needed.
Act 13 2020 was signed into law on 3/27/20 and it outlines direction to schools including the following:
Waived the requirement for school entities to be kept open 180 instructional days during the school year.
Each school entity must provide notice to parents or guardians of the plans for ensuring FAPE continuation.
School entities must make good faith effort to plan to offer continuity of education using alternative means during closure. Outlined regulations given to districts.
"A private or nonpublic school which was closed because of the 2020 pandemic may not receive more or less payment from school entities for any student placed by a school entity and enrolled as of March 13, 2020, as long as the private or nonpublic school is offering continuity of education during the period of closure" SB 751 (Section 1501.8)(K)
New Story and Green Tree Continuity of Education Plan Offerings:
This plan is unique to New Story Schools and Green Tree School. It was vetted, created and put into action to meet the serious and complex needs of our students. We have created this program to tailor to individual academic and behavioral needs. Just like our brick and mortar schools, this program is built to be expanded as we address each student's needs and abilities during this time period. Individualized programming for our students is our specialty, regardless of the delivery environment. Please refer to this new program as Distance Education.
Online learning curriculum delivery via n2y Unique Learning System
This e-learning platform is specifically designed to meet the differentiated instruction requirements for special education students. Curriculum contained meets State Specific Core Curriculum guidelines, delivers online content for grades PreK through 12th grade with an additional path for students in Vocational and/or Life Skills classrooms.
This system has content for our teachers and other professionals that is appropriate for our student's needs.
Students will be provided login information to enter the online platform and complete assignments designed by the teacher.
Paper curriculum and academic activities via n2y Unique Learning System
This platform also provides the ability to print all instructional lessons and materials for the creation of student-specific packets which can be mailed to families. For school districts or families unable to participate in an online platform, the ULS materials are accessible through paper delivery. In this scenario, students/families will receive further support through telephone consultations.
Communication and Collaboration via Microsoft Teams
Development of a new Distance Learning specific environment will enable teachers to create virtual classrooms in Teams to host virtual meetings. This will enable students, parents/guardians and teachers to communicate with live chats, email and video conferencing. Teachers may also share additional documents to students to assist with instruction and provide live feedback similar to the classroom setting.
Providing regular communication and collaboration to both students and their parents/guardians will maintain and even strengthen relationships with New Story/Green Tree during this difficult time.
Use of Microsoft Teams for related services consultation is currently in development. Related services consultation may include: Applied Behavior Analysis, speech and language, occupational therapy and counseling.
Want to be notified of new articles and resources from New Story Schools? Click here to submit your email and opt into our newsletter.