Blog
Building Bridges: New Story Schools' Sandusky Campus and Sandusky Law Enforcement Join Forces to Improve Interactions with Individuals with Autism
Posted: July 12, 2023 | Written By: Lauren Douglas | Category: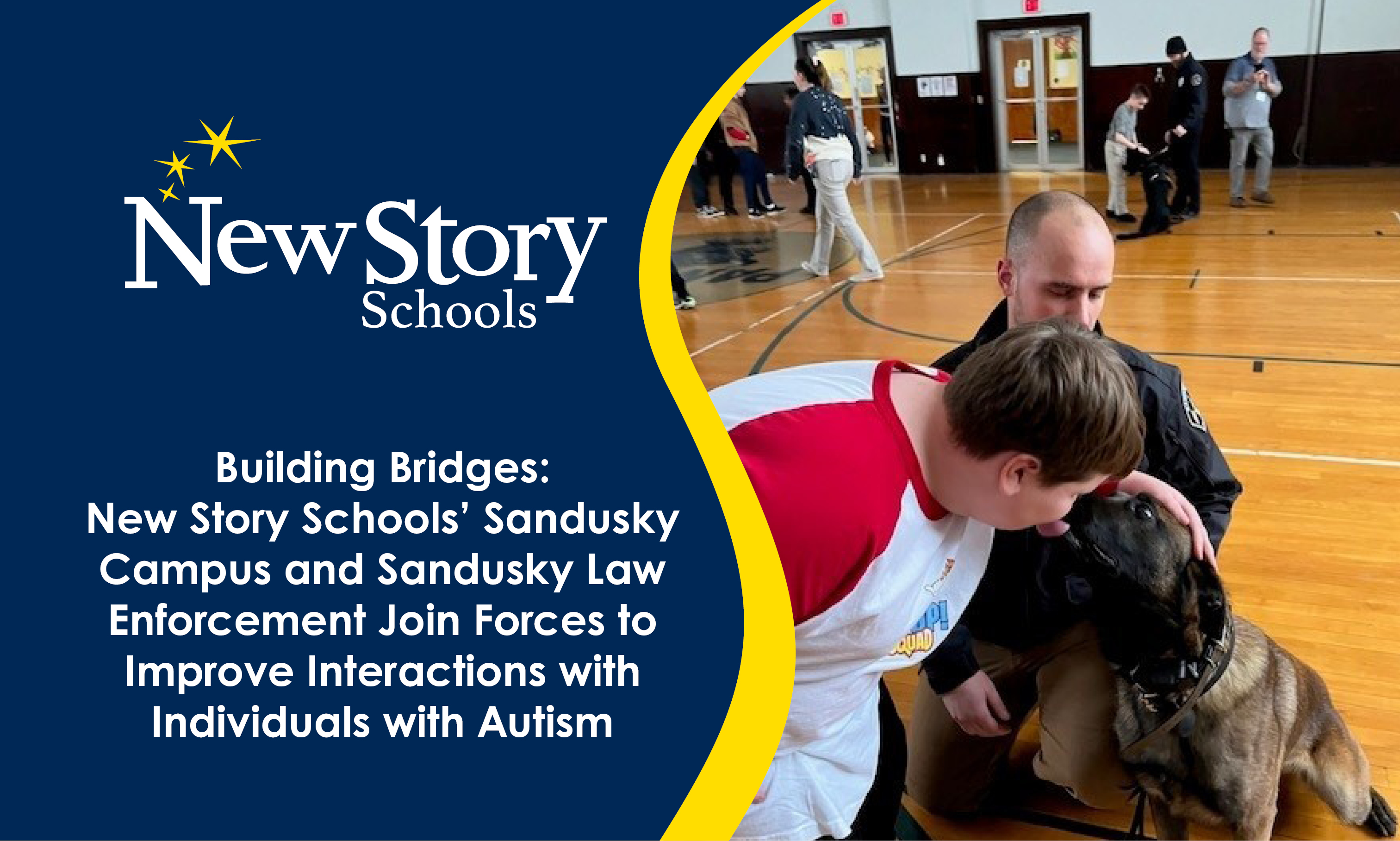 On a recent visit to New Story Schools' Sandusky, Ohio campus, a student with Tier-3 level of need including challenges in communication and self-injurious behaviors invited Officer Morton-Hill to sit next to him in class and held his hand. While this interaction may seem insignificant to some, the student's gesture of trust and comfort speaks volumes about the incredible partnership building between the Sandusky campus and Sandusky Law Enforcement.
This collaboration aims to bridge the gap between law enforcement and individuals with autism, fostering safer and more understanding interactions. "People with autism spectrum disorder (ASD) often face challenges when interacting with law enforcement," explains Anabel McFadden, Head of School at the Sandusky Campus. "We aim to break down stereotypes and create a safe environment for students to interact with officers." Notably, people with disabilities are seven times more likely to have police encounters than the general population. Research has also shown that a limited grasp of the difficulties linked to autism, such as behavioral and communication obstacles, can lead to negative experiences and unnecessary use of force.
Officer Ronta Hill-Morton of Sandusky Police Department visits the school once a week. While traditional police training programs often rely on online or classroom instruction, Officer Hill-Morton recognizes the significance of hands-on learning. "Through my experience with New Story Schools, I have learned that you have to have some sort of connection with the children in order for them to want to communicate with you," said the officer. "Our presence can be intimidating to some, but I find the more I come around, the more I'm building that connection with the children." By regularly visiting the school and participating in activities, officers create positive memories and establish rapport with the students.
By actively involving the students in the partnership and fostering trust, the collaboration helps to debunk misconceptions and promote understanding between individuals with autism and law enforcement. McFadden encourages all students to interact with the officers. Even those who are nonverbal participate using communication devices, helping students build confidence in communicating with police, and officers understand the many methods of communication that people may use. "This is helpful for students to feel comfortable approaching officers in various settings and to know that they are a safe person to go to for help," said McFadden. "It also helps to prevent behaviors from happening in the instance that an officer would approach the student."
The impact of the partnership extends beyond the school and positively affects the students' families. "Our families are very thankful for the opportunity for their students to form relationships with law enforcement," said McFadden. By sharing photos and videos of the interactions, the school reassures families that their children are safe and cared for in the presence of law enforcement. The partnership has also opened the door to collaborations with other community organizations, including the local fire department and Cops4Kids with Autism.
The partnership between New Story Schools' Sandusky Campus and Sandusky Law Enforcement showcases the transformative power of collaboration. Last school year, the department brought K-9s to the school, sparking joy and even encouraging some less outgoing students to participate. "I saw this get some of the children to open up that are usually very quiet during some of my visits," said Officer Hill-Morton. "They asked questions about our K-9s and told me about the dogs they have at home. This was a great day that I will fondly remember and hope that the children do as well."
For more resources, visit:
Want to be notified of new articles and resources from New Story Schools? Click here to submit your email and opt into our newsletter.