Blog
6 Tips for Managing Over-Stimulation During the Holidays
Posted: December 13, 2021 | Written By: Nicholas Wadas | Category: At Home Help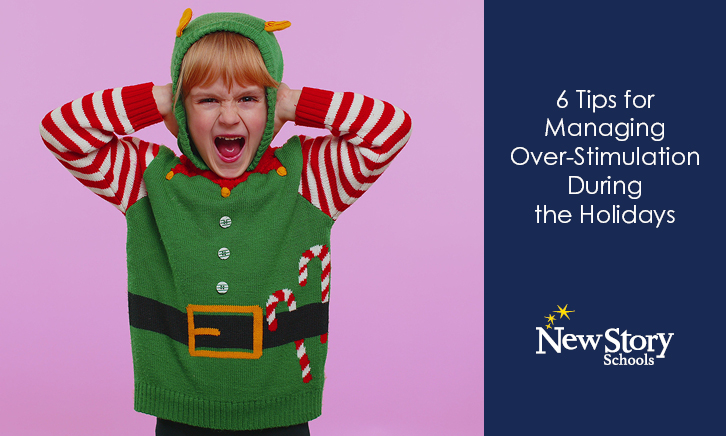 Now that the holiday season is under way, everyone is busier, and routines are flipped upside down. We get worn down by the constant change and the increased number of things on our to-do lists. It's easy for us to become overwhelmed this time of year, so imagine how children may feel – especially those with mental health or sensory processing disorders. Many of these children will experience anxiety and increased stress with changes in the day-to-day schedule. Children with autism often have a difficult time when their routines are interrupted. Changes of routine could be days off for the holidays, changes throughout the school day and more family outings than usual. These could cause a negative, anxious pattern of thinking associated with the holidays.
Children could feel overwhelmed by the constant changes that may occur over the holiday months. They could remain in an alerted state and experience mood swings. Children may become overwhelmed by holiday activities and/or environmental factors. It is important to be aware of these changes and be able to accommodate, as well as be supportive, to help the children remain positive. Here are some suggestions to help children remain calm and regulated:
Provide fidgets or hand manipulatives if the child is overwhelmed by the activity or the environment
Notice the warning signs that a child is over-stimulated by the environment and provide an outlet to allow them to self-regulate
Provide detail and structure in the changes that will occur, this will reduce the feeling of being overwhelmed and having a loss of control
Modify the activity and/or the environment the activity will take place in to support the likelihood of success
During days that entail many different activities, provide down time or a time for the child to relax
Utilize sensory breaks throughout the day and try to complete the same routine regardless of the schedule during the day
Want to be notified of new articles and resources from New Story Schools? Click here to submit your email and opt into our newsletter.